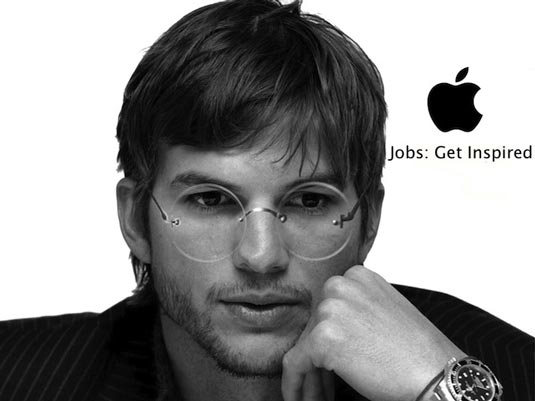 Ron Eldard
,
John Getz
,
Lesley Ann Warren
and
James Woods
have joined
Ashton Kutcher
in
Jobs
, the biopic about the Silicon Valley 'iconic visionary'.
Joshua Michael Stern
(Swing Vote) is set to direct from an original screenplay by Matt Whiteley. A Five Star Feature Film Production, Jobs is produced by Mark Hulme. Jobs is the story about a man who had a lot of people working for him and inventing things which he got credit for, and was also a 'father' of the hipsters. Boo me all you want, but this is only a harshly phrased truth. The only time when Apple had visionaries was back in '80s. And if you still state differently after that 1994 video leaking out, you have one hell of a thick skin. Take a look at the pic down below and muster the face to tell me that isn't true. I dare you. Anyway, the film chronicles Steve Jobs' transformation of character from the enthusiasm and self-discovery of his youth, to the personal demons that clouded his vision (crossed to the Dark Side he did, hmmm?), and finally to the ultimate triumphs (and numerous lawsuits) of his later life. Ashton Kutcher plays the title role (doesn't seem that much convincing to me on that title picture), with Josh Gad portraying Apple co-founder Steve Wozniak. Ron Eldard is Apple designer Rod Holt; John Getz portrays Jobs' father Paul Jobs; Lesley Ann Warren plays Jobs' adoptive mother Clara Jobs; and James Woods is Jobs' former Dean of Students Jack Dudman. Lukas Haas is Apple engineer Daniel Kottke; Matthew Modine portrays former Apple CEO John Sculley; and Dermot Mulroney is investor and second Apple CEO Mike Markkula.
The production began shooting on location in Los Angeles and Los Altos in mid-June. A winter 2012 release is planned. Jobs comes to theaters in 2012 and also stars
Josh Gad
,
Lukas Haas
,
Matthew Modine
and
Dermot Mulroney
.