Movie Photos
Check Out: New Pics From JOE, Starring Nicolas Cage & Tye Sheridan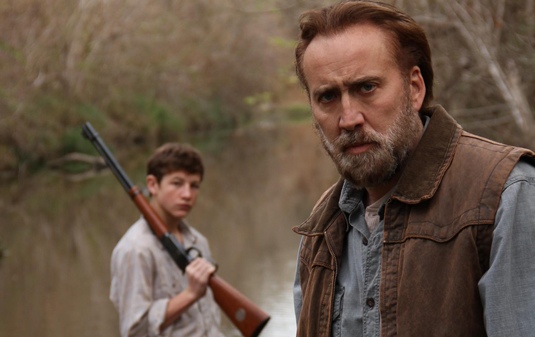 David Gordon Green's upcoming southern thriller Joe is still without an official release date, but who cares – we finally have some images to share and we definitely recommend you to take a look at this hard-hitting but incredibly moving story. The movie stars Nicolas Cage as an ex-con (and the unlikeliest of role models), who tries to be the protector of a 15-year-old boy in his small Texas town. Head inside to check him out!
Green directed the whole thing from a script written by Gary Hawkins, but the movie is actually an adaptation of Larry Brown's novel of the same name, which follows the above mentioned ex-con named Joe Ransom who meets a young boy and is faced with the choice of redemption or ruin.
Or, as director Green previously explained:
…it's kind of a modern day Western aesthetic set against kind of a natural backdrop. It becomes a beautiful father-son story that becomes basically the foreman for this young kid. So it's a really great, emotional, often very dark and violent story.
Hope we'll soon have a trailer or clip to share, but until that arrives – make sure you click on all these images to enlarge, and read the official synopsis:
Ransom has tried to put his dark past behind him and to live a simple life. He works for a lumber company by day, drinks by night. But when 15-year-old Gary – a kid trying to support his family – comes to town, desperate for work, Joe has found a way to atone for his sins – to finally be someone's hero. As Joe tries to protect Gary, the pair will take the twisting road to redemption in the hope for a better life…
Let us also mention that, beside Cage, the rest of Joe cast includes Tye Sheridan as Gary, Heather Kafka, Ronnie Gene Blevins and Sue Rock. We'll keep an eye on Joe, make sure you stay tuned for more updates!
Joe Photo Slideshow [jwplayer mediaid="169209″]