Movie News
John Oliver and Tim Gunn Join The Smurfs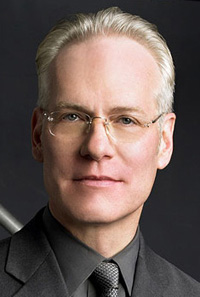 He is fashion consultant best known as a mentor on the reality series Project Runway, so is there better guy in this world to play an executive assistant at a major cosmetics company?
Guess not, and that's why we are here to report that Tim Gunn is ready to make it work on the big screen for The Smurfs!
We already wrote about this upcoming project, so we all know Raja Gosnell is directing with shooting underway in New York.
The Smurfs synopsis goes like this: "The movie will follow the diminutive blue people as they flee from their village after Gargamel locates it. They slip away through a magical portal and land smack in the middle of New York City's Central Park. With Gargamel close behind, the Smurfs must find a way home before the wizard catches up with them."
And yes, you already know that some interesting (and pretty big) cast is involved in the whole project, so, let's just mention Tim Gunn joins a cast that includes Neil Patrick Harris, Hank Azaria, Sofia Vergara, Katy Perry, George Lopez, Alan Cumming and Jonathan Winters. Anyone surprised?
No way, Gunn is definitely no big-screen-stranger, since we all remember him in guest roles on Ugly Betty, How I Met Your Mother and he'll also be seen in the upcoming Sex And the City 2.
The Smurfs also recently added several well-known voices to its cast of Smurfs, including John Oliver of The Daily Show as Vanity Smurf, Kenan Thompson as Greedy Smurf, Fred Armisen as Brainy Smurf, B.J. Novak of The Office as Baker Smurf, and stand-up comic Jeff Foxworthy as Handy Smurf.
With every new information about this live-action/CG-animation hybrid film, we'll be back. Stay tuned!