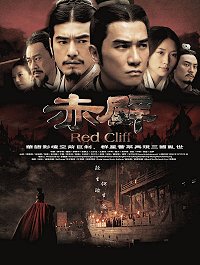 Here's the new trailer for the of John Woo's massive war epic film, "Red Clif 2."

In 208 A.D., in the final days of the Han Dynasty, shrewd Prime Minster Cao convinced the fickle Emperor Han the only way to unite all of China was to declare war on the kingdoms of Xu in the west and East Wu in the south. Thus began a military campaign of unprecedented scale, led by the Prime Minister, himself. Left with no other hope for survival, the kingdoms of Xu and East Wu formed an unlikely alliance. Numerous battles of strength and wit ensued, both on land and on water, eventually culminating in the battle of Red Cliff. During the battle, two thousand ships were burned, and the course of Chinese history was changed forever.

The film stars Tony Leung (2046), Takeshi Kaneshiro (House of Flying Daggers), Zhang Feng Yi, Lin Chi Ling, Vicky Zhao Wei, Chang Chen and is currently the most successful and most expensive movie ever in China. "Red Cliff 2" opens in Hong Kong, January 15th.