Movie News
Johnny Depp in Alice in Wonderland, Lone Ranger, and Pirates of the Caribbean 4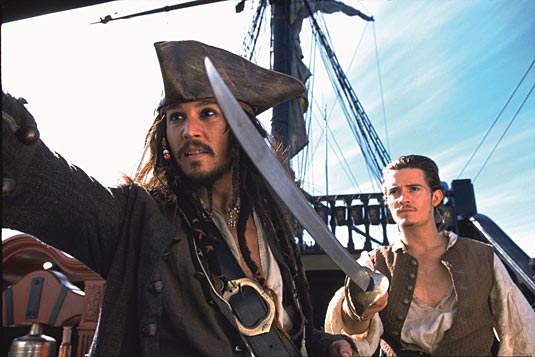 Walt Disney Studios held a massive event at the Kodak Theatre in LA, during which the Studios' chairman, Dick Cook, previewed all of Disney's upcoming films for the next few years. Johnny Depp was at the heart of it all. The actor showed up on stage for a triple announcement which apparently ties him to Disney for some time. That announcement was:
That Depp will return as Captain Jack Sparrow in Pirates Of The Caribbean 4.
That he will star as The Mad Hatter in Tim Burton's next movie, Alice In Wonderland.
Depp is officially signed to play Tonto in the The Lone Ranger film and not the The Lone Ranger himself.
During the event, Depp came out to "The Lone Ranger" theme song while wearing his Jack Sparrow outfit along with The Lone Ranger mask and gun. Cook said that the studio wants to make a fourth installment in their blockbuster franchise, suggesting that another sequel is in early development. There have been past reports of a Pirates of the Caribbean 4 but nothing concrete. One Pirates 4 rumor had Elizabeth and Will (Knightley and Bloom) being tossed aside in favor of a buddy feature centered on the search for the Fountain of Youth as Captain Jack Sparrow and Barbossa ultimately team up following a bunch of double-crossing in an effort "to defeat some supernatural terror." Pirates scripters Ted Elliott and Terry Rossio are behind the The Lone Ranger film with Jerry Bruckheimer producing. Alice in Wonderland comes to the movie houses 2010, will be shot using 3-D and performance capture technology similar to that used for Beowulf.