Movie News
Johnny Depp to play The Riddler in "Dark Knight" Sequel?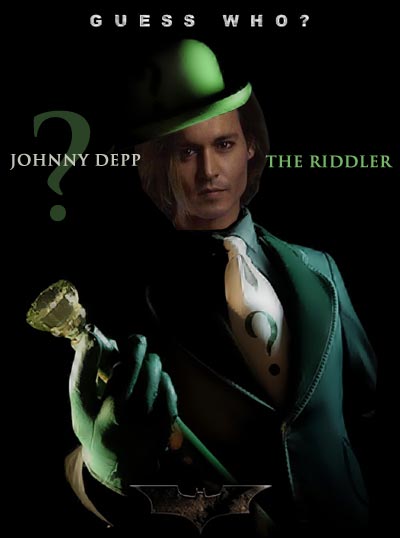 With "The Dark Knight" bringing in over $400 million for Warner Brothers, it's no surprise that everyone is trying to figure out the casting of the sequel.
Speculations of Batman's future villains apparently have moved on from which foes to be featured in the possible follow-up of "The Dark Knight" to who are going to portray them.
It was recently reported that Angelina Jolie has been talking to studio executives about taking the role of Catwoman in the sequel to "The Dark Knight."
UK's Daily Telegraph has quoted their unnamed source who said that Warner Bros is targeting Johnny Depp to play The Riddler and Philip Seymour Hoffman to take the role of The Penguin. The role of the Riddler has previously been tackled by Frank Gorshin in the television version of Batman, with Jim Carrey wearing the question-mark covered tights in Batman Forever. Meanwhile, the Penguin was handled on television by the incomparable Burgess Meredith, and a distinctively disgusting Penguin was played by Danny DeVito in Batman Returns.
"[Producers] are convinced that the role of the Riddler is perfect for Depp," said a source. "Johnny's a pro. He'll be able to take direction from director Chris Nolan and still make the character his own.