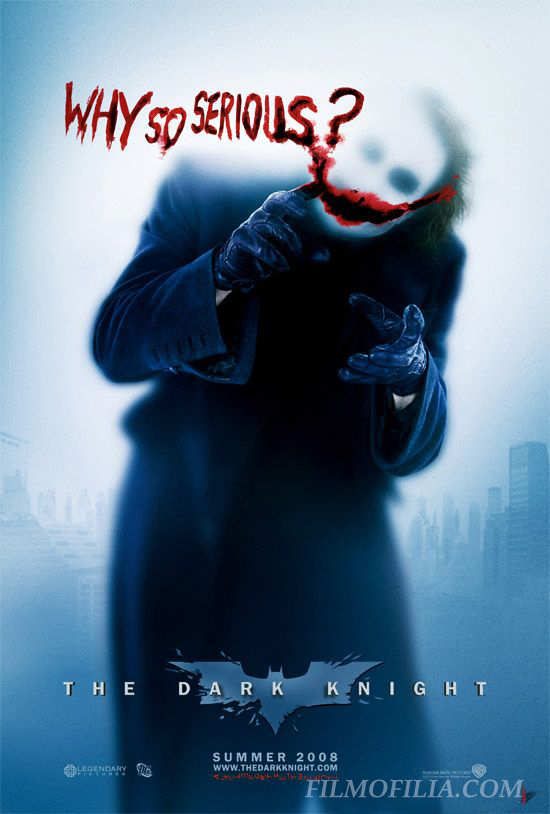 The official site for 'The Dark Knight' has been updated and now links to a video page with a nice high-quality peek at that earlier Joker poster. Here's the synopsis for the film
Christopher Nolan steps back into the director's chair for this sequel to Batman Begins, which finds the titular superhero coming face to face with his greatest nemesis — the dreaded Joker. Christian Bale returns to the role of Batman, Maggie Gyllenhaal takes over the role of Rachel Dawes (played by Katie Holmes in Batman Begins), and Brokeback Mountain star Heath Ledger dons the ghoulishly gleeful Joker makeup previously worn by Jack Nicholson and Cesar Romero. Just as it begins to appear as if Batman, Lt. James Gordon (Gary Oldman), and District Attorney Harvey Dent (Aaron Eckhart) are making headway in their tireless battle against the criminal element, a maniacal, wisecracking fiend plunges the streets of Gotham City into complete chaos.
The movie is co-written by Nolan, his brother Jonathan Nolan (The Prestige), and David S. Goyer (Blade, Batman Begins). The Dark Knight arrives in theaters worldwide on July 18th this summer!