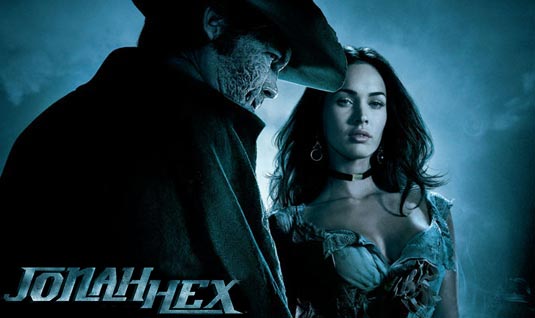 Yahoo! Movies has released the new poster for "
Jonah Hex
," the DC Comics adaptation starring
Josh Brolin
,
Megan Fox
, and
John Malkovich
. The DC Comics adaptation revolves around a bounty hunter, an American Civil War veteran with scars covering the right side of his face, who attempts to stop a Southern plantation owner from raising an army of the undead. The movie will be a sort of sci-fi western, even though the comic book is not sci-fi at all. Jonah Hex first appeared in the early 1970s in the issues of "All-Star Western" before graduating to his own series in 1977 that ran for about 10 years. A new series was launched in 2005. The character also had a run in the 1990s that combined the Western genre with supernatural elements. Directed by
Jimmy Hayward
(Horton Hears a Who!), the graphic novel adaptation also stars
Michael Fassbender
,
Michael Shannon
and
Will Arnett
. "Jonah Hex" is scheduled to hit theaters on August 6th, 2010.
Jonah Hex Poster | Josh Brolin, Megan Fox