Movie News
Karen Allen Interview – June Issue of 'More' magazine
She was the first crush of a million boys, the spunky role model for a generation of girls. As Marion Ravenwood, the game-for-anything heroine of 1981's Raiders of the Lost Ark, Karen Allen threw punches, drank burly men under the table and even managed to look good in a fussy white dress with a big flower on her backside.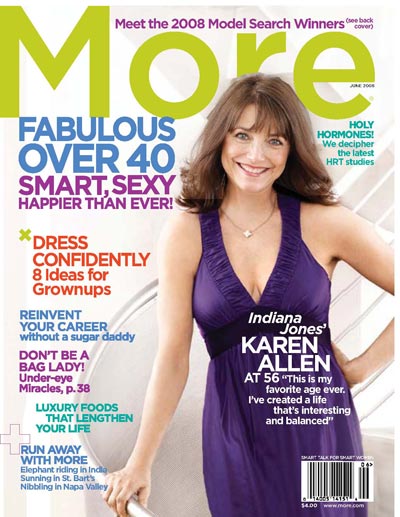 On May 22nd, at 56, she's reprising her iconic role in Indiana Jones and the Kingdom of the Crystal Skull. She'll also be on the June cover of 'More', on newsstands May 20th, discussing what she's been up to since her first turn at Marion, what it's like to do an action movie at 56 and more.
These are excerpts from the June issue of 'More':
"What's funny is that his [Steven Spielberg] wife, Kate Capshaw, had just bought a lot of my knitwear for Christmas presents. I though he was going to tell me he loved the presents! He said, 'Haven't you been watching television? We're doing another film, and you're in it.' And it wasn't a cameo, it was a big, beautiful part and I was jumping up and down," Karen said.
"On the first day of filming, she and Ford, who turned 65 during the shoot, had to leap from the back of a moving truck into its cab. "Harrison and I were laughing in between takes, saying 'Here we go again.' It just felt really seamless."
"Now, we've all grown up, we all have kids: Steven has seven children; Harrison has several families. As a younger actor, I had a harder time enjoying the process. I was so serious about it all, there was more ego involved. I'd never worked on big action things where you spend you entire day navigating through snakes or having corpses fall on your head, and I was overwhelmed."
"Karen has this sort of girlish streak to her, even as a mature woman. And yet it's not a coy thing. It's not a weak thing. She has a sense of adventure," Harrison Ford noticed.
On the first day of filming, "there I was in a fedora and a leather jacket and she showed up up looking like the Karen of old. Or of young."
Read more in the June issue of 'More'