Movie News
Kevin Smith Wants You In His Next Movie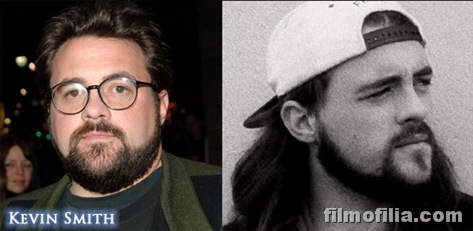 Here's some exciting news: Kevin Smith wants you to be in his next movie! Well, maybe not all of you. You sir, over the in the corner. Yes you with the third nasal cavity, I'm pretty sure he doesn't want you.
Zack and Miri
is about making a porno, but not that kind of porno. But Kev is interested in filming
some
of you, and he's put out a call over on his official site for fans to be extras in
Zack and Miri Make a Porno
, which he's currently in Pittsburgh preparing to film. Seth Rogen and Elizabeth Banks are already set to star in the film, and Sunday on his podcast Smith announced that he's currently in the midst of casting other roles, including a 40sish hottie character he briefly considered hiring Kelly LeBrock for. Apparently he's also looking for some random shlubs to be filler, and luckily, you don't actually have to be in Pittsburgh to qualify, you just have to be willing to find a way to get there. It's not clear exactly what sort of scene he'll be using these extras in, or even how many he needs. He is pretty clear that those chosen aren't getting more than minimum wage. He also asks that all photos included with your mail-in applications be fully clothed, so it's probably safe to assume he doesn't want you in the movie's porno scenes, so… who cares why he wants you. It's a new Kevin Smith movie, and you can be in it without showing your dick. Who the heck wouldn't want to be a part of that? Seth Rogen wants to be in it. What, you're better than Seth Rogen? I think not. To figure out where and how to send Kev you info, click over to his site
here
.