Movie News
KILLER KLOWNS FROM OUTER SPACE Getting a 'Requel' in 2012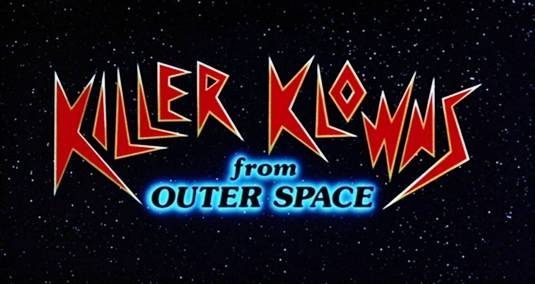 Bwahahahahahaha! The clowns are going to get you, again! The 1988 sci-fi/horror/comedy cult classic Killer Klowns from Outer Space is getting a 21st century reinvention. Written and directed by the puppeteers the Chiodo brothers (Elf, Team America: World Police, Critters) a horror flick about an alien invasion whose forces happen to look like grotesque, mutated clowns which use humans as a food source, seems that finally get the reboot it deserves. Rumors have been leaning towards last year, but a new film by the same filmmakers is in the late stages of development. Back in June, Grant Cramer, one of the stars of the original film, said:
We have a script and a commitment for all our funding but the money can't be spent until we have a distribution deal in place so that's where we are – talking to distributors.
Most recently (October) all three Chiodo brothers, Stephen, Edward and Charlie were attended Spooky Empire (originally called Screamfest) convention in Orlando, along with Suzanne Snyder (as Debbie), Grant Cramer (as Mike), Harrod Blank (plays a killer klown) and Mike Martinez (also a killer klown). During the Killer Klowns Q&A panel, a sequel was officially announced for The Return of the Killer Klowns from Outer Space (in 3D). They mentioned the new flick will be half a sequel and half a re-make and joked that it would be a four-part trilogy. The Killer Klowns will have real makeup and foam rubber appliances and they will not be CGI. The Chiodo brothers want to release the new film sequel by the end of 2012, maybe into 2013. Check out the film's official Facebook page for further updates. Bwahahahahahaha!
Chiodo BrosTable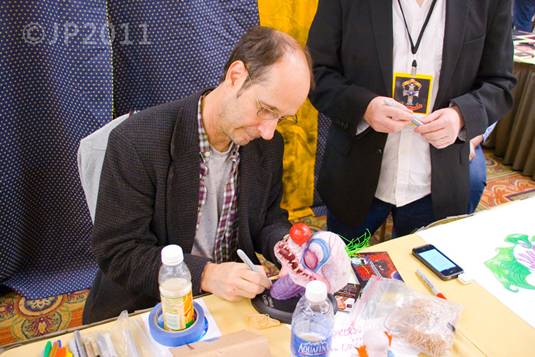 Stephen Chiodo signing Klown replica
[youtube]http://www.youtube.com/watch?v=fHXy8DpF5k0[/youtube]
Killer Klowns from Outer Space – Trailer