Movie Trailers
KNIGHTS OF BADASSDOM Trailer Has Game Of Thrones' Peter Dinklage LARPing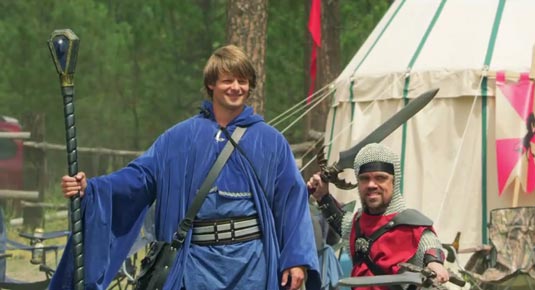 The HBO fantasy series Game of Thrones offers an incredible array of badass characters, from the gender-bending swashbuckler Arya Stark to the fearless mother of dragons Daenerys Targaryen, the brave but merciless Jaime Lannister and the towering and formidable Brienne of Tarth. But no one in Westeros or Essos is as cool as the half-man Tyrion Lannister. Played by the ever-excellent
Peter Dinklage
, Tyrion is a fan favorite for his sharp mind that gets him out of the trouble that his even sharper tongue tends to bring. Between his breakout roles in The Station Agent, Elf and Game of Thrones, Dinklage has built a die-hard fanbase that can't get enough of the bold and brilliant performer. And those of us who eagerly count ourselves among this rank have been chomping at the bit for news of his funny fantasy flick,
Knights of Badassdom
. The comedy directed by
Joe Lynch
centers on a group of fantasy LARPers (Live Action Role Players – D&D game, just live version) who accidentally summon a real-life succubus, and so must level up to meet the challenge of battling a deadly, alluring hell dweller. Check out the movie's latest trailer below: Despite having a cast that includes a bunch of fanboy/fangirl-adored stars like Dinklage, Community's
Danny Pudi
, Firefly's
Summer Glau
, True Blood's
Ryan Kwanten
and
Steve Zahn
, this fantasy-comedy has struggled in its quest to get to theaters. It shot in 2010, and premiered a trailer at 2011's San Diego Comic Con. Even now, its
official site
boasts the confusing banner "Coming 2012." But now,
Ain't It Cool
has unearthed this new trailer complete with new footage. Could this be a promise that at long last Knights of Badassdom will be released? Personally, I'm looking forward to it as this looks to be all kinds of awesome!!