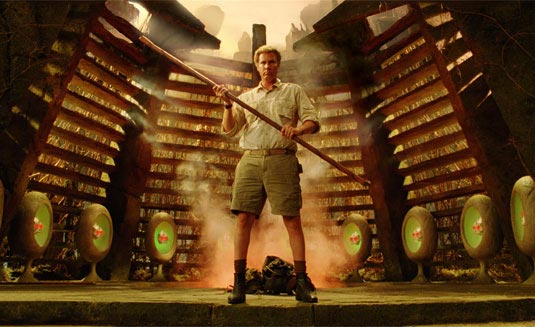 Universal
has debuted the third full length trailer for "
Land of the Lost
," the summer sci-fi adventure / comedy starring
Will Ferrell, Danny McBride, Anna Friel,
and
Jorma Taccone
.
Synopsis:
Ferrell stars as the has-been scientist Dr. Rick Marshall. Friel stars as his crack-smart research assistant and McBride plays a redneck survivalist who is sucked alongside the two scientists into an adventure through a space-time vortex. With no weapons, few skills and questionable smarts to survive in an alternate universe full of marauding dinosaurs and fantastic creatures from beyond our world, they rely on an unlikely ally and navigate through a place of spectacular sights and super-scaled comedy known as the Land of the Lost. "Land of the Lost" is directed by
Brad Silberling
(Casper, City of Angels, Moonlight Mile, Lemony Snicket) and rated PG-13 for crude and sexual content, and for language including a drug reference. It's scheduled to hit theaters on June 5th.