Movie News
Lars Von Trier's NYMPHOMANIAC Adds Uma Thurman!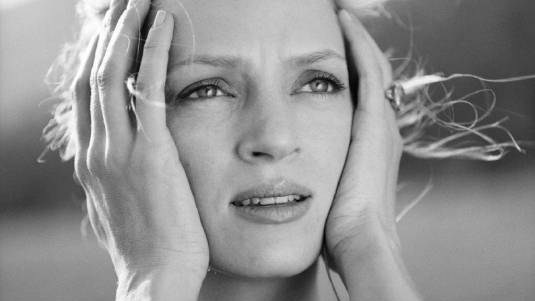 Too late to grab that beautiful head, Uma!
You're now officialy on board for
Lars Von Trier
's epic pornographic drama! Yeah, yeah, we're here to report that
Uma Thurman
will star in the upcoming
Nymphomaniac
movie, which already has some cool cast on board. But more about that in the rest of this report! First of all I will just remind you that
Nyphomaniac
will have both soft and hard core version, which means that director Von Trier is producing the movie as two feature length dramas. And although the whole thing is already shooting in and around Cologne, Germany, we still have no idea what to expect from this porn-drama. Give us some images, clips,
naked bodies, horny girls,
something like that…
for God's sake!
Still nothing? Ok then, let's get to that cast-part. The movie will follow a self-diagnosed nymphomaniac, played by
Charlotte Gainsbourg
. One night, an old bachelor, played by
Stellan Skarsgard
, finds her in an alley, badly beaten. He takes her home to nurse her back to health, while she recounts to him her life of erotic adventure. The rest of the cast includes
Shia LaBeouf
,
Jamie Bell
,
Stacy Martin
,
Connie Nielsen
and
Christian Slater
. As for the latest addition, Thurman, it's still unclear what role she'll play in the film. But one thing is for sure – a lot of porn, I mean –
fun
is guaranteed!