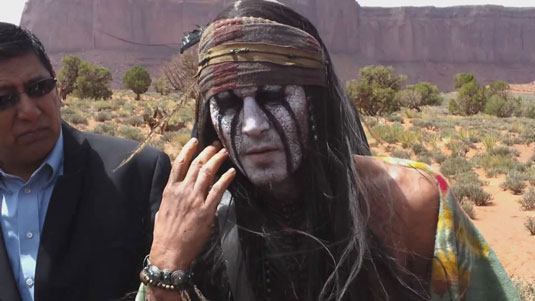 Producer Jerry Bruckheimer has a new photo from The Lone Ranger revealed on his Twitter page. It teases a "classic Hollywood exit", with stars Armie Hammer and William Fichtner seen walking away from two massive fires. However, this shot does continue the longstanding 'habit' of actors walking away with raging fire or explosion at their back, without so much as a blink. Enjoy the latest image below:
New image from The Lone Ranger. twitter.com/BRUCKHEIMERJB/…

— JERRY BRUCKHEIMER (@BRUCKHEIMERJB) March 29, 2013
Directed by Gore Verbinski, The Lone Ranger comes to theaters on July 3rd, 2013 and also stars Johnny Depp, Helena Bonham Carter, Tom Wilkinson, Barry Pepper, James Badge Dale and James Frain.