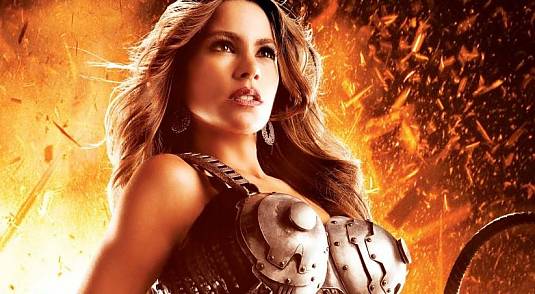 New Desdemona poster is here folks! We already shared the first poster with Sofia Vergara (she has machine guns boobs in the upcoming Machete Kills, remember?), now it's time to take another look at her tough Madame! Well, one thing is for sure – Vergara definitely looks awesome, head inside to view the larger version… Written and directed by Robert Rodriguez, the sequel to 2010 Machete is already set to hit theaters on September 13th, 2013, and the film will follow the titular ex-federale recruited by the US President to stop an arms dealer from launching a deadly missile. Or, if you prefer the official synopsis:
Danny Trejo returns as ex-Federale agent Machete, who is recruited by the President of the United States for a mission which would be impossible for any mortal man – he must take down a madman revolutionary and an eccentric billionaire arms dealer who has hatched a plan to spread war and anarchy across the planet.
Beside Vergara and Trejo, the pic also stars Michelle Rodriguez, Amber Heard, Carlos Estevez, Lady Gaga, Antonio Banderas, Jessica Alba, Demián Bichir, Alexa Vega, Vanessa Hudgens, Cuba Gooding, Jr., William Sadler, Marko Zaror and Mel Gibson. In case you've missed the first trailer, now is your perfect chance to check it out, and as usual – for more character posters make sure you visit our Machete Kills movie base.