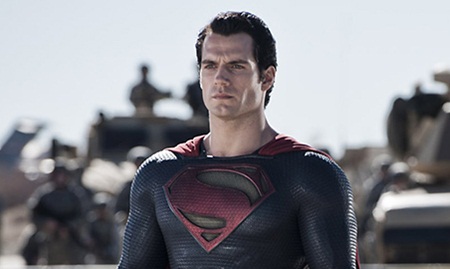 Considering Supermen is over 70 years old, you must admit he's in good shape. Actually, today is the seventy-fifth anniversary of the publication of Action Comics #1, so… wish you a super duper happy birthday, Supes! This newly-released image from Zack Snyder's Man of Steel shows off the new super-suit from head to toe, backed up by a whole lot of military hardware. On this very day, June 1938, Action Comics Number 1 hit shelves, introducing Jerry Siegel and Joe Shuster's creation to the world and, for good or ill, the world of comics has never been the same again. This cultural icon has been continuously transformed and he'll change some more in Man of Steel. Superman isn't out of touch, and his powers were lessened to make him more mortal, so he can work in a deeply cynical age — we've moved away from the aspirational hero. Supes is frustrated and isolated, according to star Henry Cavill:
Imagine what it would be like to be someone like Clark Kent/Kal-El and feel like a stranger amongst even those that you love, never developing full relationships with people for fear of them discovering how much of a freak you are. Even you don't understand exactly what you are. It's just a lonely existence. With someone who has that much power and responsibility. Although he is not susceptible to the frailties of mankind, he is definitely susceptible to the emotional frailties.
However, the most recent trailer received a pretty euphoric response online. Also starring Amy Adams, Kevin Costner, Diane Lane, Michael Shannon, Laurence Fishburne and Russell Crowe, a reboot of the venerable franchise  opens June 14th, 2013. Click the image below for the high definition.