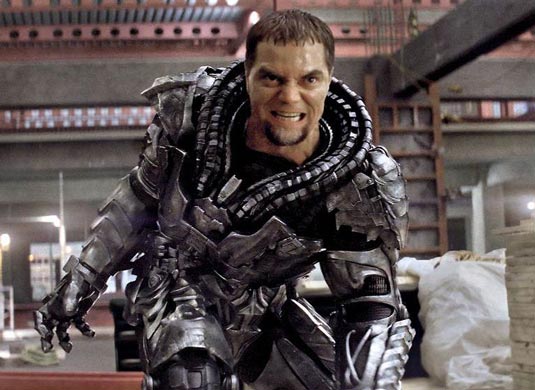 New merch for Man of Steel – this time, a 2014 calendar – reveals a few new images from the Zack Snyder film, as well as some fresh promotional images which happens to include a menacing looking General Zod (Michael Shannon). Check them out below, courtesy of Superman Home Page:
That last one looks a bit weird to me, like his eye has some issues, giving him the 'crazy look'… or is it just me not getting enough sleep? Couldn't they have used a shot from another angle, even slightly different? In any case, I can't wait! Official synopsis:
Man of Steel follows the Last Son of Krypton on his epic journey to become mankind's shinning beacon of hope for a brighter future. With the beliefs and values instilled by his adoptive parents Jonathan (Kevin Costner) and Martha (Diane Lane) Kent, a young Clark (Henry Cavill) sets out to find his place in the world. But when the nefarious General Zodd (Michael Shannon) arrives on Earth, Clark will have to choose between being a normal human or Kal-el, son of Jor-El (Russell Crowe) and humanity's greatest protector and champion. Filmed in IMAX and shot in Vancouver, Chicago and Plano, Illinois, Man of Steel will be released on June 14, 2013 by Warner Bros. Directed by Zack Snyder (300, Watchmen) with a screenplay by David S. Goyer (The Dark Knight) the Christopher Nolan (The Dark Knight Rises, Inception) produced feature film will surely be the summer blockbuster of 2013.
Man of Steel will be released nationwide on June 14th, 2013 and it also stars Amy Adams, Laurence Fishburne, Antje Traue and others.