Movie News
Marc Guggenheim to Scribe Robert Downey Jr.'s PERRY MASON Reboot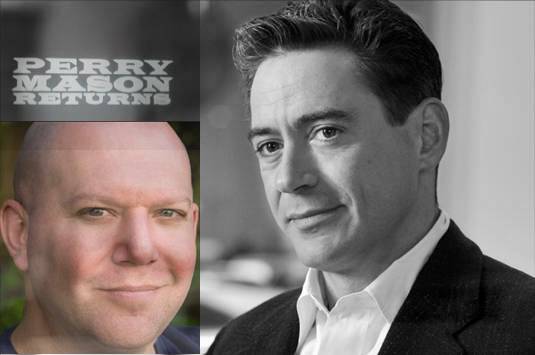 Variety first reported in November 2011 that Robert Downey Jr. wanted to make a Perry Mason film and Warner Bros was ready to help him. Based on the popular novels by Erle Stanley Gardner, the movie would follow 1930′s defense attorney Mason and other popular characters such as his secretary Della Street and Mason's enemy Hamilton Burger; not to mention Downey was eying the title role for himself.
Now comes word from THR that Marc Guggenheim, formerly a practicing attorney in Boston before he turned to screenwriting, is on board to write the script.
He's also previously scripted for the shows such as The Practice and Law & Order, and was a co-creator on legal dramedy Eli Stone. As you probably know, meanwhile Guggenheim penned last summer's Green Lantern and became a highly desired scribe as of late. Furthermore, Disney has tapped him to write a unique time travel pic called Time Zones, and he's working on the pilot episode for a series called ArrowGreen on CW Network, as well as a Fox legal drama pilot called Guilty.
The new Perry Mason feature is set to take place in Los Angleles in the 1930s, the setting of the first novels.
The books were hugely popular, but the infamous criminal defense attorney who never seemed to get a guilty client, reached new heights with the TV series that starred Raymond Burr and ran from 1957 to 1966.
There is no need to mention that Downey is ideal for the role of Mason, an exceptional litigator, but also a bit of a wise guy who deal in trickery and rule-breaking for a good cause.
[youtube]http://www.youtube.com/watch?v=-zp9VZvQZwU[/youtube]
Perry Mason – Season 1,  Episode 1,  Part 3