Interview
Mark Goerner Talks James Cameron's "Battle Angel"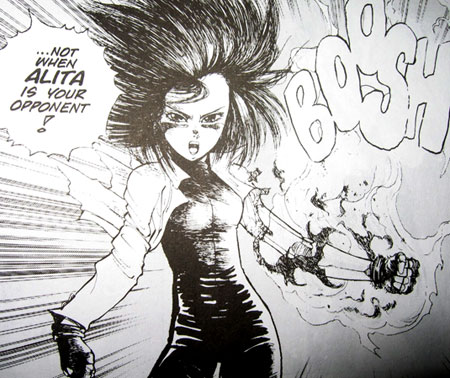 MarketSaw
had an interview with designer and artist
Mark Goerner
and here's an excerpt: Mark Goerner has been most generous to share with us his experiences working on
James Cameron
's 3-D "
Battle Angel
!" The Battle Angel books combine a fantastic sci-fi artistic aesthetic with a story that delves into the timeless themes of love, loss, family, free will, and finding one's path and place in the world. They are packed with hilarious and touching moments, and have some of the most amazingly cool action sequences in the medium of graphic storytelling.
MarketSaw:
The thing I love the most about Kishiro's Battle Angel graphic novels is how he creates such an incredibly immersive, detailed, cohesive, and unique world. Were you a fan of the Battle Angel graphics novels (the original 9) before starting work on Cameron's project? If not, are you a fan now? If so, what do you like most about them?
Mark Goerner:
The funny thing about working in the film business is that intense fans of the creative property are not always the best ones to be designing and developing the adaptive content. It's like having a crush on someone for 8 years and then finally getting your chance…preconceived notions prevent growing into the reality at hand. After reading the series and absorbing the content in the first week of work, I couldn't help but look for the influences that lead to Kishiro's story and world he wove together. I loved most of it, and the few things that didn't resonate gave it character that further set it apart from other post-apocalyptic works from the last 20 years of fiction. It is also important to think how young he was when starting to author this epic. His ability to create a layered fable of a poisonous caste system with the despair of fatherhood lost, and a cyber-youth in moral conflict, struck many chords with me.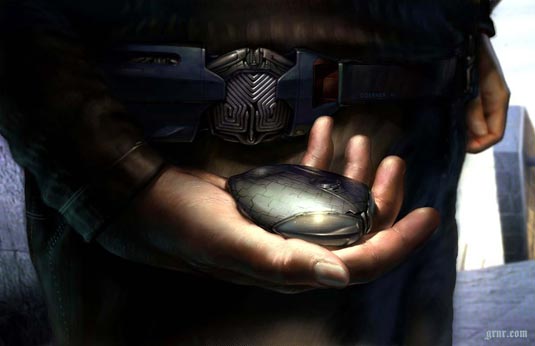 MarketSaw:
What was your creative working relationship with James Cameron? What was it like working with him?
Mark Goerner:
Oh lord, can I skip this one? Honestly, he is one of the smartest and most resourceful people I've met. Had a few great, creative meetings, and Lightstorm Entertainment had some warm people that evolved into my dysfunctional daytime family on the west side.
MarketSaw:
Which other artists worked with you in the Battle Angel art department? I believe James Clyne and Feng Zhu worked on Battle Angel as well. How did you all divide the enormous task of adapting Kishiro's visuals for the screen–did each of you have a particular focus (i.e. one of you focused on characters, another on environments, another on props, etc)?
Mark Goerner:
It turned out to be a bit of an art buffet with tasks being kicked around. James started a week before I did, jumping immediately into Alita's form and outfits. I initially worked on some of the grand scheme city designs, and then as a few months went by, dove into everything under that world's dreary sun. Seeing as James is my best pal, and one of my biggest heroes, I hope you get a chance to hit him up for further details. Feng was on shortly, and in my opinion was not utilized correctly; but that happens in certain studios and offices on a regular basis. As the last one on, I got to see the whole effort and did my most favorite piece in that last week…wish you could see it.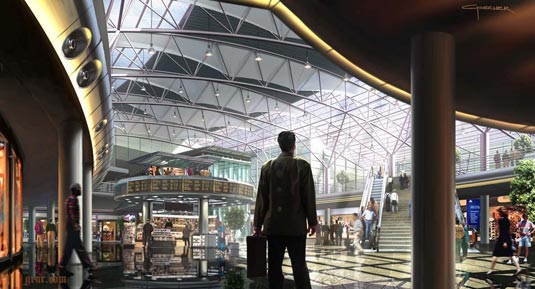 MarketSaw:
When working on Battle Angel, did you mainly focus on producing photorealistic, detailed, finished paintings, or did you also do a lot of rough conceptual sketches?
Mark Goerner:
For that phase of B.A., the focus was in creating exciting large scale visuals that where intended to excite JC when he was in town and available to check out the work and progress. In the process of developing those images, there were the usual rough sketches, but largely we used large printouts to create the biggest impact to push the drama. Read full interview
here
[source:
MarketSaw
]