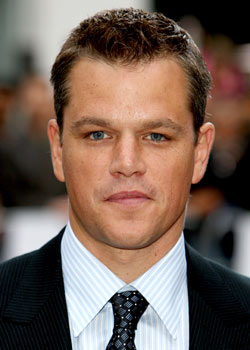 Matt Damon has signed on to star as Robert F Kennedy in a biopic of the American politician, reports Deadline Hollywood. The film will be based off the Evan Thomas biography, "Robert Kennedy: His Life." Gary Ross (Pleasantville, Seabiscuit) will directed from a script by Steven Knight (Eastern Promises). Thomas' book is described as follows:
He was "Good Bobby," who, as his brother Ted eulogized him, "saw wrong and tried to right it… saw suffering and tried to heal it." And "Bad Bobby," the ruthless and manipulative bully of countless conspiracy theories. Thomas's unvarnished but sympathetic and fair-minded portrayal is packed with new details about Kennedy's early life and his behind-the-scenes machinations, including new revelations about the 1960 and 1968 presidential campaigns, the Cuban Missile Crisis, and his long struggles with J. Edgar Hoover and Lyndon Johnson.
The movie will follow Robert F Kennedy and his transformation from the younger brother in the shadow brother President John F Kennedy to a strong national leader in his own right before he was gunned down in 1968. Oscar-nominated Steven Knight is also adapting the new Dan Brown novel The Lost Symbol. Matt Damon seems to enjoy taking part in films about political figures. He was just in Invictus, about South African President Nelson Mandela (Morgan Freeman) and he earned Oscar nomination for Actor In Supporting Role, while Freeman is nominated in Actor In Leading Role category.