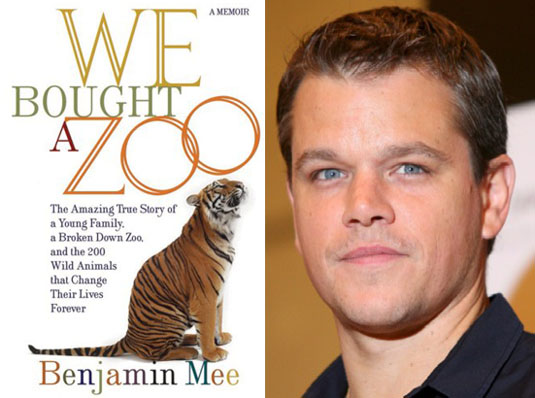 From CIA to the zoo? Maybe it sounds weird now, but it could work out pretty well for Matt Damon, because he is in early negotiations to star in Cameron Crowe's upcoming film We Bought a Zoo, based on Benjamin Mee's memoir of the same name.
Produced by 20th Century Fox the film is slated for a December 2011 release, and we're here today to have a little chat about this interesting story…
The film tells the story of "a man who loses his wife and buys a dilapidated zoo, which he reopens and turns into an animal sanctuary with his children and an assorted group of friends."
At this moment we know that screenwriter Aline Brosh McKenna (best known for her work at The Devil Wears Prada) penned the script, and Crowe is currently putting the finishing touches on it.
This project will mark the first-ever collaboration between Damon and Crowe, and it will also be the director's first feature since 2005's Elizabethtown.
Until this happens, for all Damon's fans out there little reminder! You can see him later this year in the thriller titled The Adjustment Bureau alongside Emily Blunt. Then, there's Hereafter this October – Clint Eastwood's project where Damon will play together with Bryce Dallas Howard and True Grit this Christmas, the Coen Brothers project where he will play alongside Jeff Bridges and Josh Brolin.
As you see, quite busy year, and we're happy to hear that such a good actor is involved in such a perspective titles.
That's why we'll definitely keep an eye on We bought a Zoo, and you guys remember to stay tuned!