Judd Apatow is currently working on his next film, Knocked Up (2007) spin-off titled "This Is Forty", which will stars Leslie Mann, Chris O'Dowd, Paul Rudd, Jason Segel and Megan Fox.  Over the weekend, Megan posted a photo of herself in a pool alongside co-stars Segel and O'Dowd on her Facebook page with the caption,
"On set of THIS IS 40 with Jason and Chris… Two very handsome, very tall, VERY funny men."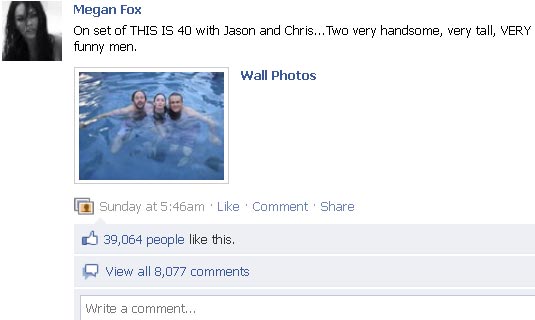 It is yet to clear, what kind of role she will be playing in this Apatow, directed comedy, Megan has received some admiring comment from her co-star. Paul Rudd told E! network at the Nylon Guys and WeSC party!
"Megan is hilarious. Paul said. I don't know if people don't realize that, but she is really really funny."
If you're unfamiliar with Knocked Up Segel played Jason, one of Ben's best friends who continually hit on Leslie Mann's character Debbie, even while her husband Pete was by her side. According to the official synopsis "This Is Forty" focuses on the relationship between Debbie and Pete as they raise their two daughters and go through the ups and downs of marriage. Already confirmed for the movie are John Lithgow, Albert Brooks, Robert Smigel and Melissa McCarthy. "This Is Forty" will be released to theaters on June 1, 2012, a quick turnaround for Segel who will release "Five Year Engagement" just one month earlier.