Movie News
Meryl Streep Received Berlinale's Golden Bear for Lifetime Achievement
In case you missed this great news,
Meryl Streep
was honored Tuesday with the
Berlinale
's Honorary
Golden Bear
for lifetime achievement. If someone deserved this award – then it's definitely Meryl Streep. But, she confessed she might be overrated. Please Meryl, don't make us laugh!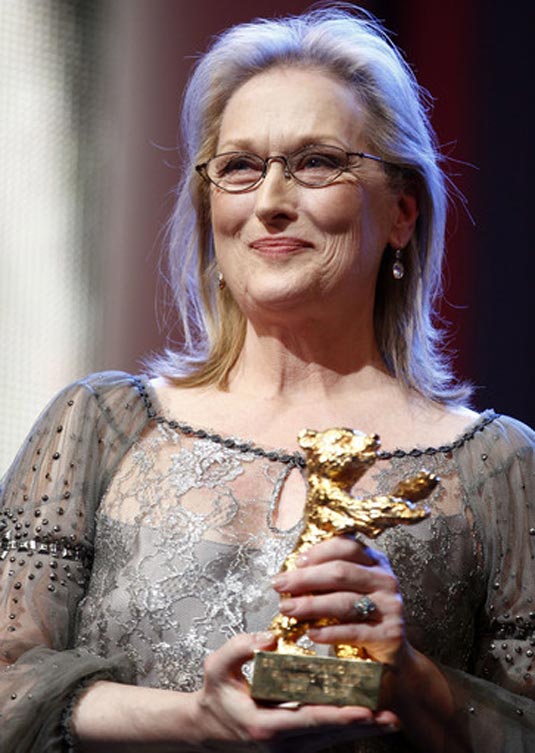 "It's very odd to be in a position where people say to you, 'Oh I think you're going to win something, oh I don't think you have a chance this year'. Suddenly you feel like you're in a sporting event and you haven't signed up for it. You did some work in a film that you're proud of and you are hoping that people will go and see it, and suddenly you're doing calisthenics for Superbowl" – said Streep and added: "I do think that the level of acting in general – everybody talks about the golden age of Hollywood but I really think that the level of acting now is higher, deeper, more daring, more adventurous and (deeply) felt and edgy."
Jake Gyllenhaal
presented Streep with the award, and she didn't forget to mention her colleagues past and present, saying: "This year, particularly for women, there there have been so many wonderful performances, many of them not even nominated, for instance our co-star Olivia Colman in a film called 'Tyrannosaur' which is absolutely breathtaking and she has not been recognised for it." Congratulations, great Meryl Streep!