Movie News
MOONRISE KINGDOM Focus Features Giveaway
The new movie directed by two-time Oscar-nominated filmmaker Wes Anderson, Moonrise Kingdom, which opened the 65th edition of Cannes, will be released in select US cities on May 25th, 2012. Anderson's first film at Cannes was received well and found largely positive reviews. Therefore, we have some wonderful goodies to offer, thanks to Focus Features! Bruce Willis, two-time Oscar nominee Edward Norton, Oscar nominee and Andreson regular Bill Murray, Academy Award winner Frances McDormand and another Anderson regular, Jason Schwartzman, and Tilda Swinton also star. The director co-wrote Moonrise Kingdom with Roman Coppola. Here's the official synopsis:
Set on an island off the coast of New England in the summer of 1965, Moonrise Kingdom tells the story of two 12-year-olds who fall in love, make a secret pact, and run away together into the wilderness. As various authorities try to hunt them down, a violent storm is brewing off-shore – and the peaceful island community is turned upside down in every which way. Bruce Willis plays the local sheriff, Captain Sharp. Edward Norton is a Khaki Scout troop leader, Scout Master Ward. Bill Murray and Frances McDormand portray the young girl's parents, Mr. and Mrs. Bishop. The cast also includes Tilda Swinton, Jason Schwartzman, and Bob Balaban; and introduces Jared Gilman and Kara Hayward as Sam and Suzy, the boy and girl.
Now you can easily win this five-piece Moonrise Kingdom prize package. FilmoFilia and Focus Features have conspired together to offer two of our readers the MK package (pictured below) valued at $46.99 per pack.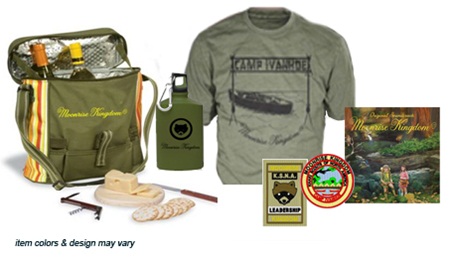 To enter, correctly answer the FilmoFilia trivia question below: Name of the film in which Anderson and Murray last collaborated? In the 'About' section of our website fill in the form with the term Moonrise Kingdom in the subject line, and enter your first name, your valid email address and then enter your answer in the message field. We will randomly draw one winner from all the entries. [youtube]http://www.youtube.com/watch?v=ocac5Umhb9g[/youtube] Good luck!