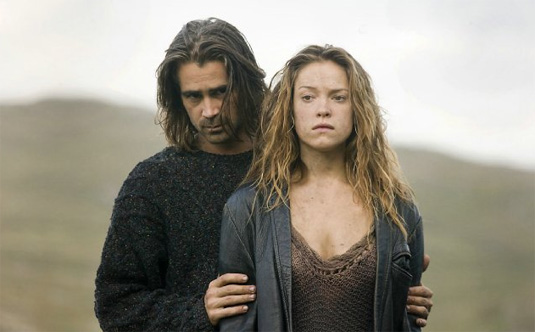 Magnolia has released the domestic trailer for
Ondine
starring
Colin Farrell
and
Alicja Bachleda
. This movie made its way to Toronto Film Festival last year and it will be released in limited theaters this summer. So, we guess you agree with us when we say that there's no better way to start summer, than with this lyrical modern fairy tale, mixed with mystery that just needs to be solved. If you're not familiar with this
Ondine
story, here's a little
synopsis
reminder: "story of Syracuse, a simple fisherman who catches a beautiful and mysterious woman in his trawlers nets. The woman seems to be dead, but then she comes alive before Syracuses eyes and he thinks he may be seeing things. However, with the help of his ailing, yet irrepressible daughter, Annie, he comes to believe that the fantastical might be possible and that the woman (Ondine) might be a myth come true. Ondine and Syracuse fall passionately in love, but just as we think the fairytale might go on forever, the real world intercedes. Then, after a terrible car crash and the return of a dark and violent figure from Ondines past, hope eventually prevails and a new beginning is presented to Syracuse, Ondine and Annie". It's really interesting that this kind of story comes from Oscar winning director
Neil Jordan
that we all remember from titles like
Interview With The Vampire
and
The Crying Game
. But one thing is for sure, if you, even for a second think that this is some boring story about some fisherman's life – trust us, you're wrong. Because, (well, just maybe because) that fisherman Syracuse is amazing
Colin Farrell
, with brilliant performance, as you can watch in this trailer. The rest of the cast includes Alicja Bachleda (his partner in this movie as well as in real life),
Alison Barry, Derva Kirwan
and
Stephen Rea
. At the end of this report, let's remind you that Ondine is already played in Europe, but Magnolia will finally be bringing this to theaters in June. So, if you like the plot, make sure to find a seat for this movie, and enjoy this beautiful (and not just another) love story.