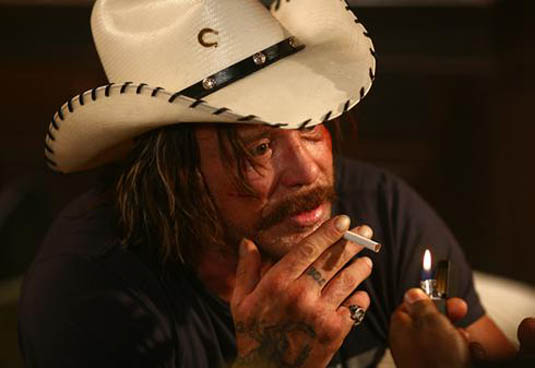 It goes like this. When you have a project that big companies are sabotaging, all movie blogs immediately start to create titles like –
this great movie finally gets a release date
, or –
check out the new great trailer for a movie we've been waiting for so long
… But then, when the whole thing actually sees the light of a day, we get titles like –
what a terrible trailer
, and –
this is awful
, or something like that. The same thing happened with
Gela Babluani
's
13
. Why? I have no idea! So, here's a deal – I say all
50 Cent
fans out there, let's unite together and give a hard kick on their ass! Because, I think there's nothing wrong with this new trailer for the English-language remake of the 2005 French movie
13 Tzameti
also directed by Babluani.
And just because
Mickey Rourke
said "it's terrible movie" doesn't mean every single movie blog on the web has to repeat that. After all, Babluani's directorial debut 13 Tzameti won the World Cinema Grand Jury Prize at the 2006 Sundance Film Festival as well as two awards at the 2005 Venice Film Festival. So, just check it out, and then judge! The movie centers on a young man Vince (Sam Riley), who has decided to follow instructions intended for someone else, without knowing where they will take him. When he reaches his destination, he discovers he's enlisted to be a numbered participant in an underworld Russian roulette competition where gamblers place bets on the contestants. The potential payoff is so high he goes through with it despite the long odds of survival. 13 stars
Jason Statham, Mickey Rourke, Michael Shannon, Ray Winstone, Alexander Skarsgard, Wayne Duvall
and
50 Cent
and as we previously mentioned, the whole thing is already listed as opening up on one screen in L.A. on October 28 at the Laemmle Theaters while its Blu-Ray release is already slotted for a week later on November 8.
13 Trailer