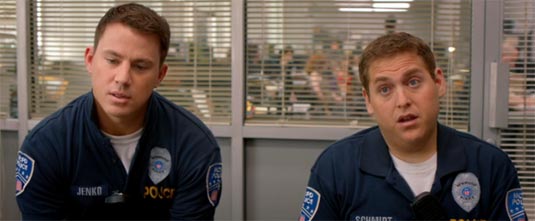 The only thing getting blown tonight is their cover.
Well, ok, we can deal with that cover, simply because we're talking about
Jonah Hill
and
Channing Tatum
, who both star in the upcoming
21 Jump Street
movie. And, although I'm not so impressed with the new poster I will admit that the fresh trailer for this action comedy looks fantastic. Check it out! So, Hill stars as Schmidt and Tatum as Jenko, two guys who join the police force and the secret Jump Street unit, using their youthful appearances to go undercover in a local high school. As they trade in their guns and badges for backpacks, they risk their lives to investigate a violent and dangerous drug ring. Soon, they find that high school is nothing like they left it just a few years earlier and neither expects that they will have to confront the terror and anxiety of being a teenager again and all the issues they thought they had left behind. And they just tried to leave their adolescent problems behind. Hm, well, nice try! The movie is directed by
Phil Lord
and
Christopher Miller
and the rest of the cast includes
Ice Cube, Brie Larson, Dave Franco, Nick Offerman
and
Rob Riggle
. 21 Jump Street opens on March 16th, 2012.