Movie News
New BERSERK Anime to be Released This Fall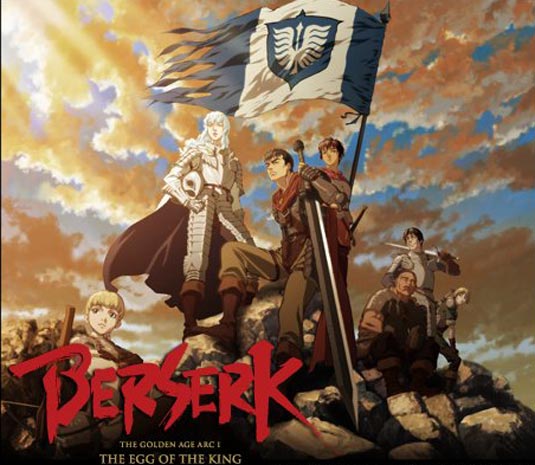 VIZ Media has announced that they have acquired the U.S. rights to release the new
Berserk
anime trilogy,
Berserk: The Golden Age Arc
. The first film of the trilogy,
The Egg of the King
, will be released in Fall of 2012 (only a few months after Japanese premiere, I'm positively surprised), but I'm not sure is whether this will be a theatrical or home video release. After all the whiny little-boys main characters, it's about time anime gets manly again. They have not confirmed the exact release date yet, though, so stay tuned for updates. Also, I understood earlier that it will continue as a series along the
Kentarō Miura
's manga (so this trilogy thing is a new one for me, too), whereas the old anime stopped after 25 episodes (if I remember correctly), leaving us with more questions than answers. And if I tell you that the manga has appeared in 1980s and is still coming out monthly (more or less), you can imagine how much there is to be said yet! I remember watching the first series coming to an end and screaming 'nooooo!' on the inside (and almost on the outside, too). Luckily, I got my hands on manga later, and managed to catch up… And now I can't wait for the next one to be released. Impatience is a curse!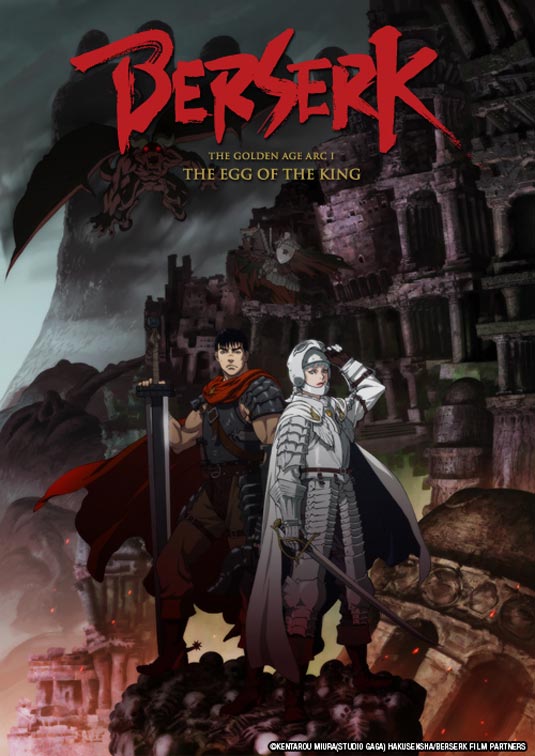 As a fan of the old-school Berserk anime series, I'm sooo excited to see how this version will turn out. If you're a fan of violence and dark fantasy also, you should definitely check it out. Though, judging from the trailers, I must admit I liked the old all-Japanese animation a wee bit better, at least when faces are concerned – they looked as if the mangaka, i.e. Kentarō Miura had animated them himself. Take a look, there are four of them, two theatrical and two TV: [youtube]http://youtu.be/cu8Xa5p1uSE[/youtube] [youtube]http://youtu.be/N-9vM79FFWQ[/youtube] [youtube]http://youtu.be/m0E05N454iw[/youtube] [youtube]http://youtu.be/bZ3PqF6yLms[/youtube] We also got our hands on the first ten minutes of the film. I had a heart-stop while watching it and seeing some gory parts of fighting scene censored, but then I saw this version, explaining that the theatrical release won't be censored at all. Phew! [youtube]http://www.youtube.com/watch?v=wEgcHdTb8t4[/youtube] Also, a trailer for the second movie has been released: [youtube]http://youtu.be/mGw_pxittJA[/youtube] I will give myself the freedom to say that Berserk is, to my opinion, the best manga/anime series of all times, with excellent drawing/animation, fantastic music and majestically developed characters. There are quite a few anime that I love, but this one… this one is tops! The upcoming movies will definitely have a lot to live up to. There are also three clips from the movie, check them out, too! [youtube]http://www.youtube.com/watch?v=h5VzprMuS7I&feature=iv&annotation_id=thedigitalsin_annotation_70751[/youtube] Synopsis: "Combining a foreboding medieval European-inspired setting with fantasy and exquisitely detailed swordsmanship, Berserk: The Golden Age Arc I – The Egg of the King follows lone mercenary Guts as he travels the land where a hundred-year-old war is taking place. His ferocity and ability to take down enemies attracts the attention of Griffith, leader of the mercenary group 'The Band of the Hawk', and Guts is recruited to the unit. Thanks to their continued victories on the battlefield, the bond between Guts and Griffith deepens, but despite all their success, Guts begins to question his reasons for fighting for Griffith's dream. Unknown to Guts, this unyielding dream is about to bestow a horrible fate on them both." The Berserk movie trilogy is being produced by Studio 4ºC (First Squad: The Moment of Truth, Memories, Steamboy, Spriggan). Directed by
Toshiuki Kubōka
, scripted by
Ichiro Okōchi
, with promising music by
Shiro Sagisu
(Evangelion, Bleach), it will star
Hiroaki Iwanaga
(Kamen Rider, Tomica Hero Rescue Force) as Guts,
Takahiro Sakurai
(Toriko, Code Geass: Lelouch of the Rebellion) as Griffith and
Toa Yukinari
(Naruto Shippūden) as Casca. The supporting cast are
Yuuki Kaji
(Durarara's Walker) as Judou,
Minako Kotobuki
(K-on's Tsumugi Kotobuki) as Rickert,
Takahiro Fujiwara
as Pippin,
Yoshirou Matsumoto
as Corkus,
Kazuki Yao
(Bastard's Dark Schneider) as Gaston,
Aki Toyosaki
(K-On's Yui Hirasawa) as Charlotte,
Rikiya Koyama
(Detective Conan's Kogorō Mōri, Naruto's Yamato) as Julius/Adon, and 
Kenta Miyake
(Wolf's Rain's Tsume) as Zodd. P.S. A piece of 'trivia', for the end: For those utter geeks out there, the Dungeons & Dragons/Pathfinder class has been released a while ago, based on Guts – Hybrid Elite Warrior. It's quite awesomely overpowering, just as he is!