Movie Photos
New Brian De Palma's PASSION Image Starring Rachel McAdams and Noomi Rapace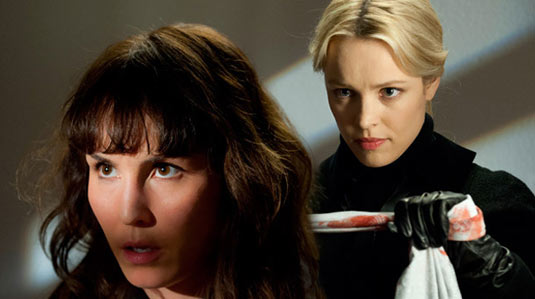 Just when I almost forgot about Brian De Palma's upcoming Passion movie, a completely new image came in!
And here I am, once again more than interested in this erotic thriller which stars Rachel McAdams and Noomi Rapace. This definitely looks great, especially because this time (usually sweet) McAdams is the bad girl. I mean, look, she's trying to kill Rapace!
So, they already describe Passion as the story of a deadly power struggle between two women in the dog-eat-dog world of international business. It centers on Christine and Isabelle, two completely different women who are in the same team.
McAdams' character, Christine, possesses the natural elegance and casual ease associated with one who has a healthy relationship with money and power.
On the other hand, Rapace stars as her innocent, lovely and easily exploited protégé Isabelle who is full of cutting-edge ideas that Christine has no qualms about stealing.
So you already guess – Christine starts a game of seduction and manipulation, dominance and humiliation. And all that until Isabelle falls into bed with one of Christine's lovers. Then, the real war breaks out…
Yeah, Passion – everything but boring.
Let us know what you think about this image, and stay tuned for more!