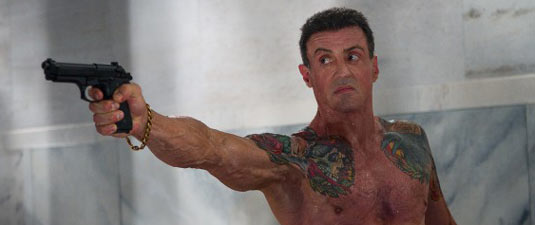 Here's a completely new image from the upcoming Bullet to the Head movie, which means – if you're a huge fan of Sylvester Stallone you're about to enjoy in his shirtless photo.
The movie which is directed by Walter Hill is set to open on April 13th, 2012 and also stars Sung Kang, Sarah Shahi, Jason Momoa, Christian Slater, Holt McCallany and Adewale Akinnuoye-Agbaje.
By now, we all know that Bullet To The Head is based on a graphic novel of the same name, which is written by Matz and illustrated by Colin Wilson.
The movie follows Stallone as a New Orleans hitman who teams up with a New York City cop in order to bring down the killers of their respective partners.
Joel Silver, Alexandra Milchan, Miles Millar, Alfred Gough and Kevin King-Templeton are all on board to produce the whole thing while Alessandro Camon is responsible for the script.
I'm definitely looking forward to this action thriller, what about you?