Movie Posters
New Eclipse Posters Featuring Wolf Pack and The Cullens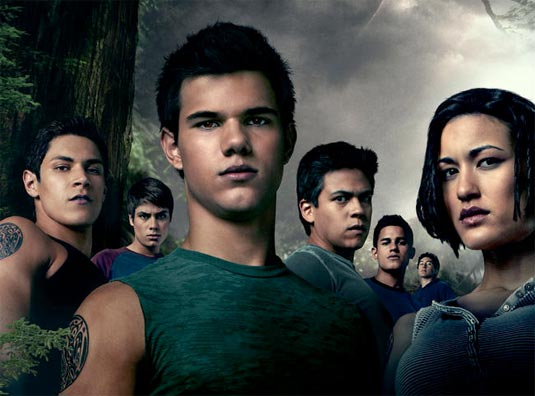 Eclipse will be in theaters June 30th 2010 and from the studio we have some new posters for the movie featuring the Wolf pack (Jacob – Taylor Lautner, Leah Clearwater – Julia Jones, Paul – Alex Meraz, Jared  – Bronson Pelletier, Sam – Chaske Spencer, Embry – Kiowa Gordon and Quil – Tyson Houseman) and the Cullen family (Edward – Robert Pattinson, Carlisle – Peter Facinelli, Esme – Elizabeth Reaser, Rosalie – Nikki Reed, Emmett – Kellan Lutz, Jasper – Jackson Rathbone and Alice – Ashley Greene).
The Twilight Saga: Eclipse finds Bella once again surrounded by danger as Seattle is ravaged by a string of mysterious killings and a malicious vampire continues her quest for revenge.
In the midst of it all, she is forced to choose between her love for Edward and her friendship with Jacob — knowing that her decision has the potential to ignite the ageless struggle between vampire and werewolf.
With her graduation quickly approaching, Bella is confronted with the most important decision of her life.
Twilight Saga: Eclipse, directed by David Slade is based on the novel "Eclipse" by Stephenie Meyer, with a screenplay by Melissa Rosenberg.

Eclipse Poster | Jacob – Taylor Lautner, Leah Clearwater – Julia Jones, Paul – Alex Meraz, Jared  – Bronson Pelletier, Sam – Chaske Spencer, Embry – Kiowa Gordon and Quil – Tyson Houseman

Eclipse Poster | Edward – Robert Pattinson, Carlisle – Peter Facinelli, Esme – Elizabeth Reaser, Rosalie – Nikki Reed, Emmett – Kellan Lutz, Jasper – Jackson Rathbone and Alice – Ashley Greene