Movie Photos
New FOR A GOOD TIME, CALL… Red Band Clip and Photos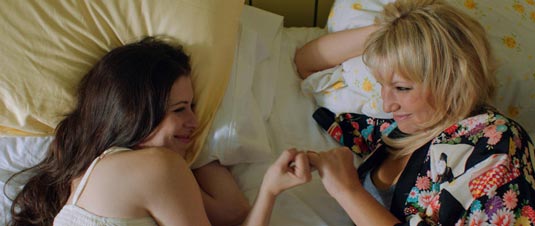 The other day we shared with you clips and featurettes from the upcoming Focus Features flick, For a Good Time, Call… Now, we're going to treat you with another clip, this time a red-band one (why is it red-band is beyond me – they only mentioned peeing). Take a look at it after the jump:
We also have a fair number of pics from the film for you to enjoy, too:
For a Good Time, Call… is a story about two past enemies, Lauren and Katie, who are also complete opposites. But, they both come up short with funds for their dream apartment in Big Apple, so their mutual friend is 'forced' to room together with both of them. At one point, Lauren discovers that Katie is working as a call-girl, so she comes up with a 'business proposition'. Their newly-found friendship/partnership takes off, but it sets unexpected challenges for both of them.
Directed by Jamie Travis, For a Good Time, Call… comes to theaters on August 31st, 2012 and stars Seth Rogen, Justin Long, Ari Graynor, Mimi Rogers, Mark Webber and others.