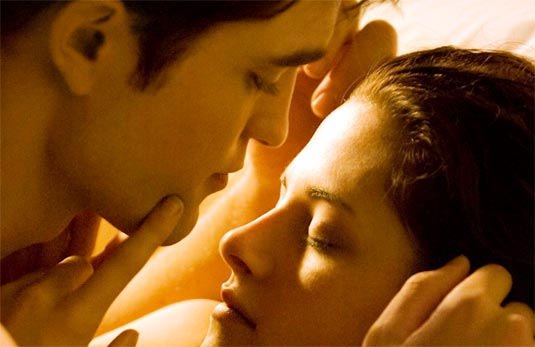 Summit Entertainment has just sent over the second high-res photo from
The Twilight Saga: Breaking Dawn – Part 1,
Breaking Dawn, which shows Bella (
Kristen Stewart
) and Edward (
Robert Pattinson
) being all romantic in the bedroom. In the highly anticipated next chapter of the blockbuster The Twilight Saga, the newfound married bliss of Bella Swan and vampire Edward Cullen is cut short when a series of betrayals and misfortunes threatens to destroy their world. After their wedding, Bella and Edward travel to Rio de Janeiro for their honeymoon, where they finally give in to their passions. Bella soon discovers she is pregnant, and during a nearly fatal childbirth, Edward finally fulfills her wish to become immortal. But the arrival of their remarkable daughter, Renesmee, sets in motion a perilous chain of events that pits the Cullens and their allies against the Volturi, the fearsome council of vampire leaders, setting the stage for an all-out battle. The suspenseful and deeply romantic Breaking Dawn continues the epic tale of supernatural fantasy and passionate love that has made The Twilight Saga a worldwide phenomenon. The move is directed by
Bill Condon
(Gods and Monsters, Kinsey, Dream Girls)
Breaking Dawn
will be split into two parts with the first one, starring
Kristen Stewart, Robert Pattinson, Taylor Lautner, Ashley Greene, Anna Kendrick, Jackson Rathbone, Nikki Reed, Peter Facinelli
is set for November 18, 2011 U.S. release and
The Twilight Saga's Breaking Dawn Part II
due November 16, 2012 in the U.S.
Edward (Robert Pattinson) and Bella (Kristen Stewart) in Twilight Saga: Breaking Dawn