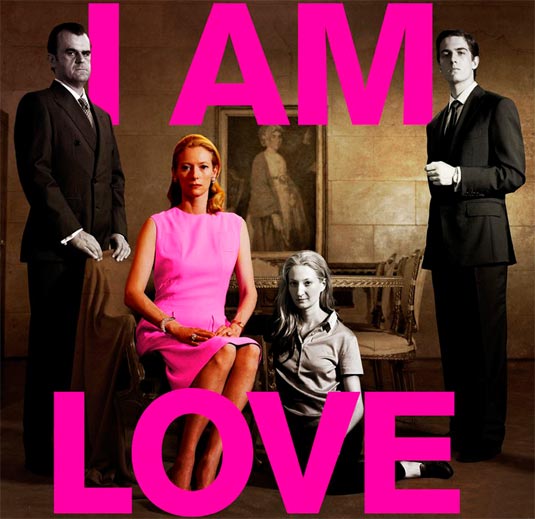 Today we have a brand new poster for the upcoming drama I Am Love.
I Am Love synopsis: A family embraces the positive and negative sides of new freedoms fate has brought their way in this drama from filmmaker Luca Guadagnino (Qui, The Protagonists, Tilda Swinton: The Love Factory).
Edoardo Recchi Sr. (Gabriele Ferzetti) is the patriarch of a wealthy Italian family who've amassed a significant fortune over the years through shrewd investments in manufacturing. Edoardo has a beautiful wife, Allegra (Marisa Berenson), and they have four grown children — Tancredi (Pippo Delbono), Edoardo Jr. (Flavio Parenti), Gianluca (Mattia Zaccaro) and Elisabetta (Alba Rohrwacher). The family gathers for a reunion at Edoardo and Allegra's villa in Milan, with Tancredi's wife Emma (Tilda Swinton) and Antonio (Edoardo Gabbriellini), a chef planning on going into business with Edoardo, also in attendance. But the happy gathering takes a somber turn when Edoardo suddenly dies while having lunch with the family.
The death takes the family by surprise, and causes nearly everyone to reassess themselves and their lives. In the months that follow, Allegra discovers that Elisabetta is a lesbian, and deals with new desires of her own when she falls in love with Antonio. Tancredi finds that his relationship with Emma is not as stable as it once was as he struggles to keep up the elegant image of the Recchi name. And Edoardo Jr., now controlling much of the family business, is disappointed with how changing styles of business have eroded the company's dignity and good name.
Io Sono L'amore (aka I Am Love) was an official selection at the 2009 Venice International Film Festival.
I Am Love will hit limited theaters in the U.S. on June 18, 2010.

I Am Love Movie Poster