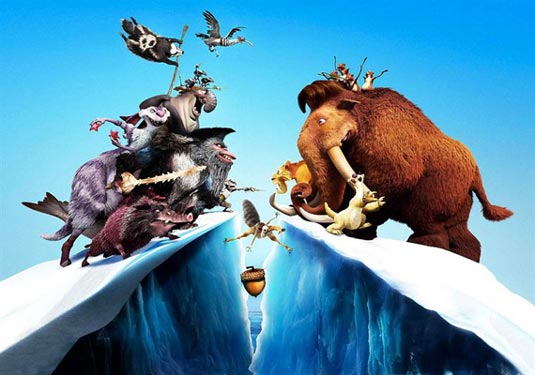 I can't help but wonder when the Ice Age team will run out of big global catastrophies to cause problems for the main characters in the franchise. But as long as the ordeals of Sid, Diego, Manny and acorn-chasing Scrat continue to rake in the cash in piles, we're guessing they'll find them. As the subtitle Continental Drift suggests, this time Scrat's actions lead to some huge, world-shifting changes, which you can see in this new trailer. [youtube]http://youtu.be/VNwt2ty2r7E[/youtube] The misadventures this time find our heroes drifting off away from their families on a random ice floe. While they worry about how they'll get back to everything and everyone they know, a bigger problem pops up when they run afoul of a band of pirates led by Captain Gutt (voiced by Game Of Thrones' Imp, 
Peter Dinklage
). Diego, meanwhile, finds a possible love interest in Shira (voiced by Jennifer Lopez). The ever-growing cast includes a blend of both veteran and new voices, with
John Leguizamo
,
Denis Leary
,
Ray Romano
,
Seann William Scott
,
Josh Peck
,
Queen Latifah
,
Wanda Sykes
,
Aziz Ansari
,
Keke Palmer
,
Drake
,
Josh Gad
,
Alan Tudyk
and
Nick Frost
.
Ice Age: Continental Drift
will hit the theaters on July 13th, 2012.