Movie Photos
New Image From THE NECESSARY DEATH OF CHARLIE COUNTRYMAN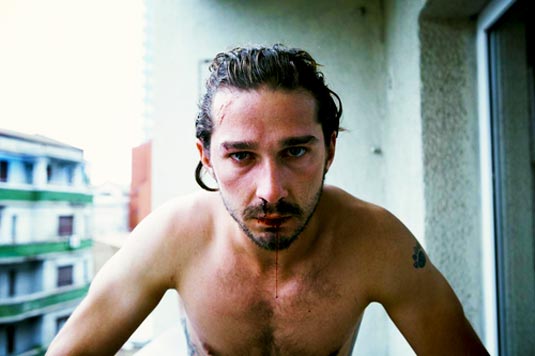 Monday night Park City hosted the World Premiere of The Necessary Death of Charlie Countryman and a new image had arrived before it. The Necessary Death is the feature debut of highly acclaimed commercial video director Fredrik Bond. It's a passionate, tender love story surrounded by chaos, violence, and crime, written by Matt Drake (Project X), starring Shia LaBeouf and Evan Rachel Wood, about an American who travels abroad, falls in love with a Romanian girl, but runs afoul of her violent ex-boyfriend played by the always unusual Mads Mikkelsen. The film is sort of a Guy Ritchie movie meets Twin Peaks in which the love story fights with the thriller: violent, bloody, loud, confusing, bordering on soft-core porn and completely full of itself. And, Bucharest looks cool. The soundtrack from Dead Mono and Christophe Beck and choice of excellent music like M83, Moby and Sigur Ros are obviously influenced by Bond's past work. Along with some great images and tremendous action scenes in the film. There's no distributor for this one yet, but seems like a hard sell for a mini-major that focuses more on pedigree such as Searchlight or Focus.
Also check out LaBeouf's interview on the red carpet for the premiere screening of Necessary Death. [youtube]http://www.youtube.com/watch?v=Y2HU61Dxres[/youtube]
The Necessary Death of Charlie Countryman / U.S.A. (Director: Fredrik Bond, Screenwriter: Matt Drake) — Traveling abroad, Charlie Countryman falls for Gabi, a Romanian beauty whose unreachable heart has its origins in Nigel, her violent, charismatic ex. As the darkness of Gabi's past increasingly envelops him, Charlie resolves to win her heart, or die trying. Cast: Shia LaBeouf, Evan Rachel Wood, Mads Mikkelsen, Rupert Grint, James Buckley, Til Schweiger.
Source: The Playlist