Movie News
New Images From THE HOST, Starring Saoirse Ronan, Max Irons & Jake Abel!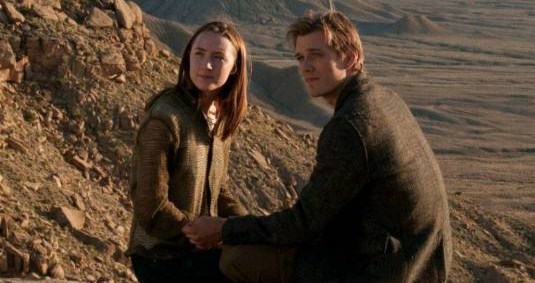 Here are some cool new images from
The Host
movie, which is set to open next spring. We're talking about
Andrew Niccol
's upcoming adaptation of
Stephenie Meyer
's best-selling novel of the same name, that has quite interesting cast on board. Beside super-cute
Saoirse Ronan
, this suspense thriller also stars
Max Irons
and
Jake Abel
, and today we have a much better look at their characters, so go on and check them all out! Described as a riveting story about the survival of love and the human spirit in a time of war (our world has been invaded by an unseen enemy, remember?), The Host follows Ronan's character Melanie Stryder who refuses to fade away. Wanderer, the invading "soul" who has been given Melanie's body, knew about the challenges of living inside a human: the overwhelming emotions, the too vivid memories. But there was one difficulty Wanderer didn't expect: the former tenant of her body refusing to relinquish possession of her mind. Melanie fills Wanderer's thoughts with visions of the man Melanie loves – Irons' alter ego Jared, a human who still lives in hiding. Unable to separate herself from her body's desires, Wanderer yearns for a man she's never met. As outside forces make Wanderer and Melanie unwilling allies, they set off to search for the man they both love. The rest of the cast includes
Jake Abel
,
Diane Kruger
,
William Hurt
and
Frances Fisher
, and as we previously reported
The Host
is set to open on March 29th, 2013.