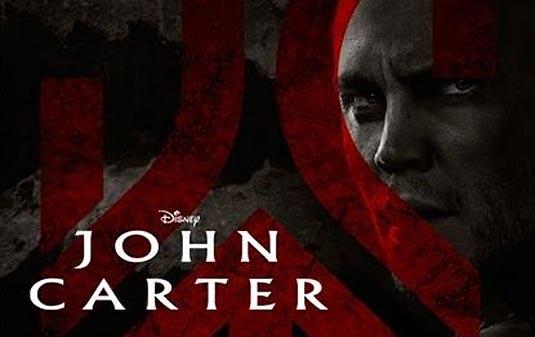 Walt Disney Pictures has released the second trailer for Andrew Stanton's adaptation of Edgar Rice Burroughs' epic tale,
John Carter
, which opens in 3D and IMAX 3D theaters nationwide March 9th, 2012. The film follows a former Confederate captain (Taylor Kitsch) who is mysteriously transported to Mars and must resolve a conflict between warring nations. You can watch it below and we'll update the trailer when the official version comes online (
updated
). Willem Dafoe, Lynn Collins, Mark Strong, Bryan Cranston, Dominic West, James Purefoy, Thomas Haden Church and Polly Walker complete the supporting cast.
From Academy Award(R)-winning filmmaker Andrew Stanton comes "John Carter"–a sweeping action-adventure set on the mysterious and exotic planet of Barsoom (Mars). "John Carter" is based on a classic novel by Edgar Rice Burroughs, whose highly imaginative adventures served as inspiration for many filmmakers, both past and present. The film tells the story of war-weary, former military captain John Carter (Taylor Kitsch), who is inexplicably transported to Mars where he becomes reluctantly embroiled in a conflict of epic proportions amongst the inhabitants of the planet, including Tars Tarkas (Willem Dafoe) and the captivating Princess Dejah Thoris (Lynn Collins). In a world on the brink of collapse, Carter rediscovers his humanity when he realizes that the survival of Barsoom and its people rests in his hands.
Download trailer:
HD-Quality 1080p [1920 px]
− 64 Мb (mp4)
HD-Quality 720p [1280 px]
− 43 Мb (mp4)
HD-Quality 480p [852 px]
− 34 Мb (mp4)