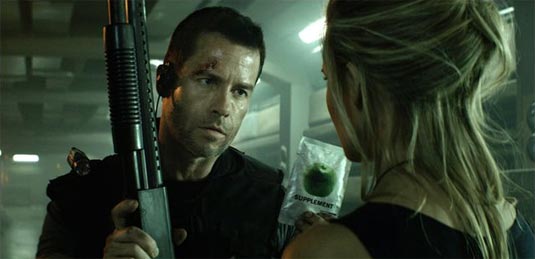 I'm definitely in sci-fi mood these days, so I'm quite happy that we finally have an international trailer for the upcoming
MS One: Maximum Security
movie, previously titled
Lock-Out
. In case you're not so familiar with this title, I will just tell you that this project has it all – from conspiracy, espionage and top secret part to outer space prison. Just name it!
James Mather and Stephen St. Leger are responsible for the story and are also behind this project which follows a man wrongly convicted of conspiracy to commit espionage against the U.S. He's then offered his freedom if he can rescue the president's daughter from an outer space prison taken over by violent inmates, and that's exactly where the fun starts.
Guy Pearce, Maggie Grace, Peter Stormare, Lennie James, Vincent Regan, Tim Plester, Anne-Solenne Hatte, Yan Dron, Patrick Cauderlier, Milorad Kapor, Bojan Peric
and
Mark Tankersley
all star in MS One: Maximum Security which is set to open on April 20th, 2012. What do you think?