Movie Posters
New MACHETE KILLS Poster: Sofia Vergara Has Machine Gun Breasts
'
Machete Kills
and so do
Sofia Vergara
's brests' or 'Sofia Vergara lactates terror in latest Machete Kills poster' are the most interesting headlines that speak for themselves. Vergara's Madame Desdemona comes up with a unique method of dispatching her enemies, so as you'll see, this is pretty much business as usual for the Machete movies.
Robert Rodriguez
and co are pushing the limits for part two, which stars
Danny Trejo, Amber Hearrd, Sofia Vergara, Vanessa Hudgens, Michelle Rodriguez, Zoe Saldana, Jessica Alba, Alexa Vega, Lady Gaga, Demian Bichir, Charlie Sheen, Antonio Banderas, Cuba Gooding Jr., Mel Gibson
and more. Open Road Films will release Machete Kills on September 13th, 2013. Hit the jump to check out this one-sheet which made its way
online
as a scan from the latest paper issue of EW.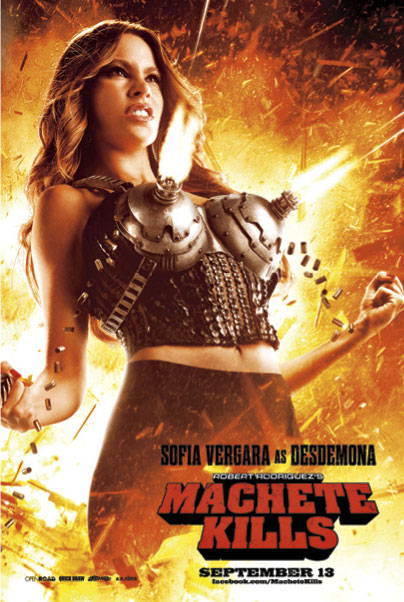 In Machete Kills, Danny Trejo returns as ex-Federale agent Machete, who is recruited by the President of the United States for a mission which would be impossible for any mortal man – he must take down a madman revolutionary and an eccentric billionaire arms dealer who has hatched a plan to spread war and anarchy across the planet.