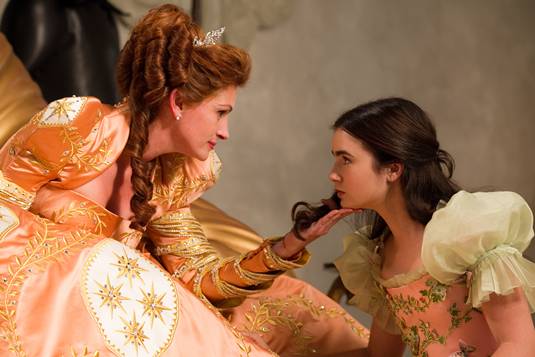 Mirror, mirror upon the wall, who is the fairest of them all?
Very beautiful, but so proud and haughty Julia Roberts will ask in the role of the evil Queen Clementianna, just two months before also very beautiful, but so proud and haughty Charlize Theron will say the same words in role of the evil Queen Ravenna. The Brothers Grimm fairy tale 'Snow White and the Seven Dwarfs' will bring the fairytale revolution in theaters this year. Now I must leave further introduction or you will either lose interest. Well, I have to say that fans of Tarsem Singh's comedic Snow White film, Mirror Mirror, will have to wait a little longer before the movie arrives in theaters as the family-friendly movie, starring Lily Collins as Snow White and Julia Roberts as the Queen has moved its release date by two weeks, to March 30th, 2012 (to grab Easter audience's attention). In support of this new release date announcement, Relativity Media unleashed a colorful sneak-peek trailer for the Snow White movie. The fresh promo video gives a longer look at the fair skinned princess, while the first trailer focused much more the Roberts' eccentric Queen.
Lily Collins as Snow White Mirror Mirror scribes Melisa Wallack and Jason Keller (Machine Gun Preacher) have taken a fairly satirical approach to the tale and Collins also revealed in the film's behind-the-scenes featurette that:
In our story, it's a little bit different. They train me physically and emotionally. I've read so many stories where the prince saved the princess. It's time we change that ending.
The comedy/action-adventure also stars Armie Hammer as Prince Andrew Alcott, Sean Bean as the King and Nathan Lane as the Queen's hapless and bungling servant, Brighton. [jwplayer mediaid="88048″]