Movie News
New Photos of Amanda Seyfried as Linda Lovelace in a Phone Booth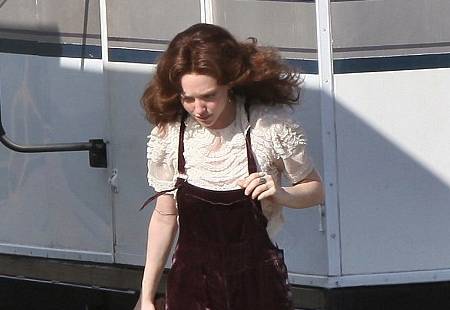 The 26-year-old actress
Amanda Seyfried
was spotted shooting a dramatic scene in a phone booth by the beach for her new film
Lovelace.
Seyfried, who was sporting some fake cuts on her knuckles and face, wore a knit sweater with highwaisted jeans as she filmed the scene with a beautiful beach sunset in the background. The Red Riding Hood actress stars opposite
Peter Sarsgaard, Sharon Stone, Juno Temple, Wes Bentley, Hank Azaria, Bobby Cannavale, Chris Noth, Robert Patrick, James Franco, Eric Roberts, Adam Brody
and
Demi Moore
in the biopic. Based on Eric Danville's biography 'The Complete Linda Lovelace,' the film follows Linda Boreman's see her name up in lights as iconic porn star Linda Lovelace of 1972s Deep Throat, and her later transformation to feminist, anti-porn activist Linda Marchiano. The story is told through the perspective of three interviewers at various stages of her life. She recently told ABCnews.com:
It's going to be really hard and kind of terrifying at the same time. I do have some liberties there but I am playing someone that existed in history and had quite an established reputation for something very extreme.