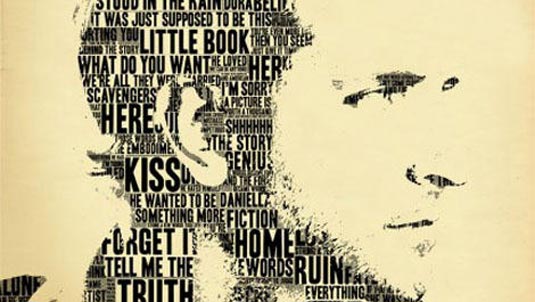 The new poster for
The Words
has been released, and this movie will mark the directorial debut of writers
Brian Klugman
and
Lee Sternthal
(TRON: Legacy). The dramatic thriller centers on "a writer (Cooper) who at the peak of his literary success, discovers the price he must pay for stealing another man's (Irons) work." The film boasts an impressive cast in
Bradley Cooper
,
Olivia Wilde
,
Zoe Saldana
,
Jeremy Irons
, and
Dennis Quaid
. The Words is shaping up to be one of the most promising indie films of the year. The film debuted to very positive reviews at Sundance this year, and has been something to look forward to all the more ever since. The excellent first trailer landed last month, and now the main US poster has debuted after we saw the great first poster earlier this year, in which words (presumably from the film) formed Cooper's portrait. Here's the synopsis:
"Rory Jansen, a struggling writer, aspires to be the next great literary voice. When he discovers a lost manuscript in a weathered attaché case, he realizes he possesses something extraordinary that he desperately wishes he had created. Rory decides to pass the work off as his own and finally receives the recognition he desperately craves. However, he soon learns that living with his choice will not be as easy as he thought as he faces a moral dilemma that will make him take a hard look at the man he has become."
Brian Klugman and Lee Sternthal have crafted a subtle tale that examines how overwhelming desire can lead to unforeseen and unwanted consequences and reveal how one man's lost legacy holds the life of another man captive. The Words will be released in the US on September 7th, 2012, two weeks earlier than previously expected. Until then, take a look at the great new poster.
And in case you missed it, you can watch the first trailer below.