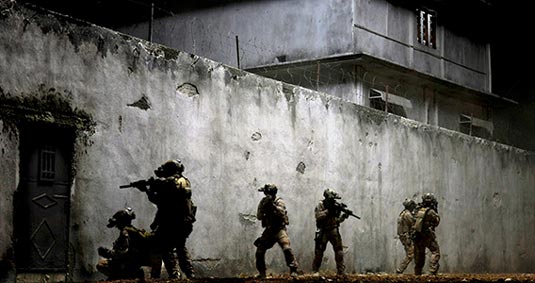 The first poster for Kathryn Bigelow's Zero Dark Thirty was mostly classified, only containing a blacked out title and release date.
It was a nice little tease, but it's the theatrical trailer for the thriller about the hunt and assassination of terrorist leader Osama Bin Laden that's truly fantastic – courtesy of Moviefone. Check it out below!
Reteaming with The Hurt Locker screenwriter Mark Boal, Bigelow's latest feature stars Joel Edgerton, Jessica Chastain, Edgar Ramirez, Mark Strong, Kyle Chandler, Nash Edgerton, Jennifer Ehle, Harold Perrineau and Frank Grillo and focuses on the black ops mission to capture or kill Osama bin Laden, which culminated in his death during a high-stakes raid on his compound in Pakistan.
Zero Dark Thirty hits the theaters in a limited release on December 19th, 2012 after which it will expand everywhere on January 11th, 2013.