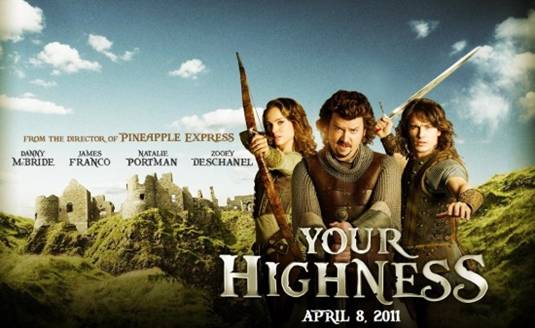 A new Red-Band Trailer for Your Highness was released by Universal Pictures, toplining Danny McBride, James Franco, Natalie Portman, Damian Lewis, Zooey Deschanel, and Toby Jones.
Throughout history, tales that promote dignity, courtesy, courage, and respect for right have burnished the legends of handsome knights in shining armor who rescue fair damsels, slay dragons and conquer evil. But behind many a hero is a good-for-nothing younger brother trying just to stay out of the way of those dragons, evil and trouble in general. Two princes on a daring mission to save their land, they must rescue the heir apparent's fiancée before their kingdom is destroyed.
A dirty Sword-and-Sorcery movie from the David Gordon Green, director who helmed The Arthouse favorite George Washington (Green's independently financed first feature back in 2000) and starring Best Actress Oscar winner Natalie Portman is nothing but the utter hell.
In the meantime one red-band trailer has been edited as well as one regular trailer for Your Highness. Now we have a new red-band video that shows more offensiveness, more half-naked Natalie Portman and quite a few women to appear in full frontal nude scenes.
The film opens April 8, 2011.
Check out the new Red-Band Trailer for Your Highness and let us know what you think of this.