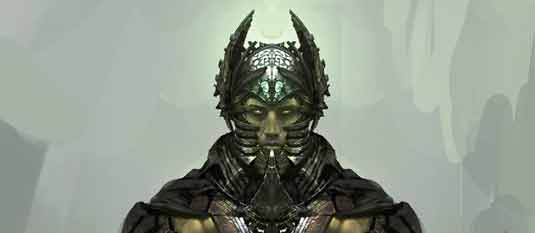 I guess we're all interested in this project, so let's cut the crap and reveal a new concept art photo from the upcoming
Riddick 3
. And this time, it's
upcoming
indeed, because we finally learned that the whole thing starts principal photography in a few weeks. As you already guess,
Vin Diesel
is responsible for this announcement, so the least you can do is go to his
Facebook
page and press the Like button, or whatever… Or, you could just stay right here because we're here to share Diesel's announcement: "Grrr… An early Riddick Necro-armor design… Haha, I had to share. It takes hundreds of artists to make a movie… I am excited about the work this group of artists, Our Riddick crew, is doing up in Canada. P.s. Riddick starts principal photography in weeks… much to do, much to do…" Anyway, let us remind you that Riddick will reunite Diesel with director
David Twohy
, who directed the previous two Riddick films as well as co-star
Karl Urban
. In case you forgot the synopsis, here, refresh your memory: "Betrayed by his own kind and left for dead on a desolate planet, Riddick fights for survival against alien predators and becomes more powerful and dangerous than ever before. Soon bounty hunters from throughout the galaxy descend on Riddick only to find themselves pawns in his greater scheme for revenge. With his enemies right where he wants them, Riddick unleashes a vicious attack of vengeance before returning to his home planet of Furya to save it from destruction." Stay tuned for more updates on this one!