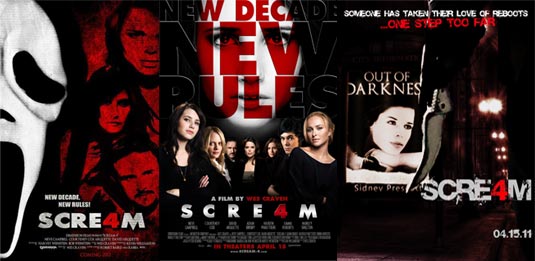 Fans of the Woodsboro
Ghostface
Killer will be thrilled to watch the brand new trailer for the upcoming
Scream 4.
All the rules from the previous films are null and void in the forth installment of the franchise. The virgins shall no more be harmed, and
Sydney Prescot,
she's food for the killer(s) as well. Scream 4 re-unites
Wes Craven
with the survivors of the original trilogy. Despite a production as
Calamity Jane
and
Kevin Williamson
being replaced by
Scream 3
hack
Ehren Kruger
fans and audiences alike will have good cheer for this fourth stab at the material. Synopsis:
Sidney Prescott
(
Neve Campbell
), now the author of a self-help book, returns home to Woodsboro on the last stop of her book tour. She reconnects with
Sheriff Dewey
(
David Arquette
) and
Gale
(
Courteney Cox
), who are now married, along with her cousin
Jill
(
Emma Roberts
) and her aunt
Kate
(
Mary McDonnell
). Unluckily Sidney's appearance also lead to the return of Ghostface, putting Sidney, Gale, and Dewey, likewise Jill, her friends, and the whole town of Woodsboro at risk. The previous three films in the franchise have all been rated R by the MPAA for their strong bloody violence and language. Given the younger cast members, like Emma Roberts,
Rory Culkin
and
Hayden Panettiere
, there's a possibility the film may be rated PG-13. Scream 4 will begin shooting in Michigan in June 2010, aiming for a April 15th 2011 release. A full-length movie trailer has been released for Wes Craven's Scream 4, revealed by the film's Canadian distributor Alliance Viva Film. The trailer features a lot of new footage not shown in the initial teaser trailer. Watch the trailer now embedded after the jump.