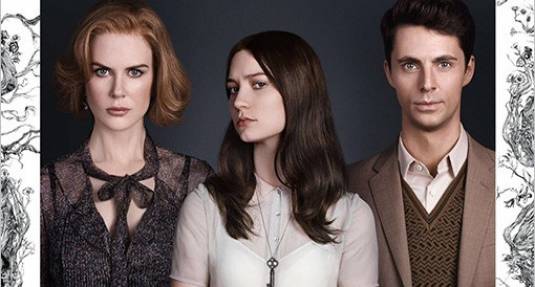 Another great poster for the upcoming horror-thriller Stoker has arrived, and as you're going to see – this time we have a little message from the leading cast which goes like this: do not disturb the family! What a creepy family indeed! Their faces look pretty cool, but if you check out the rest of this report and take a better look at the poster, you'll actually see there's blood on someone's hands… Horror film, or family drama or psychological thriller? I don't care, the only thing I know is that I'm totally interested in this movie. It comes from director Park Chan-wook, it's written by Wentworth Miller and it stars Mia Wasikowska, Nicole Kidman and Matthew Goode. What else can you wish for?
Wasikowska plays girl named India. After her father dies in an auto accident, her Uncle Charlie, who she never knew existed, comes to live with her and her emotionally unstable mother. Soon after his arrival, she comes to suspect this mysterious, charming man has ulterior motives, but instead of feeling outrage or horror, this friendless girl becomes increasingly infatuated with him.
The rest of Stoker cast includes Dermot Mulroney, Jacki Weaver, Lucas Till and Alden Ehrenreich, and the movie is set to open on March 1st, 2013. Let us know what you think about the latest poster and stay tuned for more!