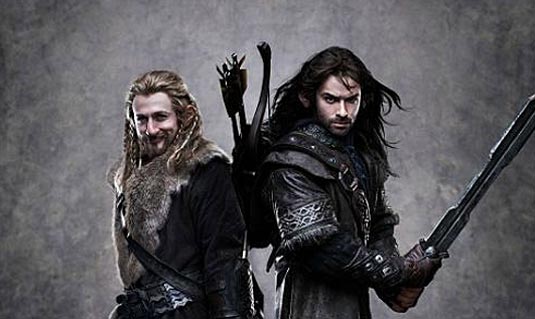 Here is the first look at at Dean O'Gorman as Fili and Aidan Turner as Kili from The Hobbit: An Unexpected Journey, a couple of dwarfs who aid Bilbo Baggins in the new journey. Earlier we shared the first look at Dori, Nori, Ori, Oin and Gloin from the film. Hit the jump to check out the image and to learn more about Fili and Kili.
Dwarves Fili and Kili

Two of the youngest Dwarves, Fili and Kili have been born into the royal line of Durin and raised under the stern guardianship of their uncle, Thorin Oakensheild. Neither has ever travelled far, nor ever seen the fabled Dwarf City of Erebor. For both, the journey to the Lonely Mountain represents adventure and excitement. Skilled fighters, both brothers set off on their adventure armed with the invincible courage of youth, neither being able to imagine the fate which lies before them. The cast includes Ian McKellen, Andy Serkis, Orlando Bloom, Elijah Wood, Jed Brophy, Adam Brown, Mark Hadlow, John Callen, Peter Hambleton and Cate Blanchett. Here's a plot synopsis for The Hobbit: An Unexpected Journey: "The Hobbit" follows the journey of title character Bilbo Baggins, who is swept into an epic quest to reclaim the lost Dwarf Kingdom of Erebor, which was long ago conquered by the dragon Smaug. Approached out of the blue by the wizard Gandalf the Grey, Bilbo finds himself joining a company of thirteen dwarves led by the legendary warrior, Thorin Oakensheild. Their journey will take them into the Wild; through treacherous lands swarming with Goblins and Orcs, deadly Wargs and Giant Spiders, Shapeshifters and Sorcerers. Although their goal lies to the East and the wastelands of the Lonely Mountain first they must escape the goblin tunnels, where Bilbo meets the creature that will change his life forever… Gollum. Here, alone with Gollum, on the shores of an underground lake, the unassuming Bilbo Baggins not only discovers depths of guile and courage that surprise even him, he also gains possession of Gollum's "precious" ring that holds unexpected and useful qualities… A simple, gold ring that is tied to the fate of all Middle-earth in ways Bilbo cannot begin to know. Produced and directed by "Lord of the Ring" series' filmmaker Peter Jackson, the forthcoming film is scheduled to hit theater on December 14, 2012. and its sequel The Hobbit: There and Back Again follows on December 13, 2013.